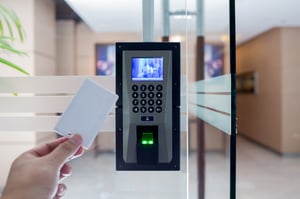 You put a lot of blood, sweat, and tears (and money) into your small business. That's why you need a security system to protect it. While an access control system will certainly boost your business's security, choosing the wrong system will only cause more expense and frustration.
When planning access control system installation, it's important to consider these four points to make sure the system you choose is actually the system you need.
Wired vs. Wireless Access Control System
Access control systems can be broken down into two main categories: wired and wireless. For small businesses worried about staying on budget, a wireless system can help you reduce some of the installation costs.
Wireless systems are simple to install. There's no drilling or wires. Just mount the hardware, put in the batteries, and you're good to go. Since installation is so easy, a professional crew will have everything ready in a fraction of the time compared to wired systems, reducing the installation costs.
The main downside to wireless systems is the lack of range. Entry devices can only communicate as far as the radio signals will reach. Luckily, small businesses are just that: small. Distance typically isn't a problem, making wireless access control systems the go-to for most small business owners.
On-Site vs. Cloud Data Storage
Between user permissions, security logs, and timestamps, access control systems use a lot of data. All that information needs to go somewhere.
On-site storage is the traditional option. It requires expensive servers and a serious IT infrastructure to handle the amount of information. Along with all the additional hardware, you'll need an IT team who can handle the management and maintenance. Many small businesses don't have the budget or manpower to handle on-site storage for their access control system.
Most small businesses opt to store their data in the cloud. It's fast, easy, and doesn't require any additional hardware. All your information is sent off-site to a security provider. Whenever you want to access your information, simply log in from any device. Your security provider will handle server maintenance, so you don't have to.
While cloud-based access control systems will save you money on hardware, they generally require a monthly subscription fee. But for the level of convenience, it's a small price to pay.
Don't Neglect the Software
When choosing an access control system, the software is usually an afterthought. It's easy to get swept up in the excitement of entry devices and wireless networks, but software can make or break the entire system.
The software is the part of the system you'll interact with the most. It's how you manage the system, control user permissions, and monitor the data. You want to pick something that's user-friendly and easy to manage. If you don't have an IT team on staff, make sure you get software with plenty of available support in case you run into problems.
If you already use (or are planning to use) other security systems like CCTV cameras, alarm systems, or intercoms, make sure the access control software can integrate with your existing systems (or vice versa). It's always easier to manage a single cohesive system than several individual ones.
Choose the Right Entry Devices
Entry devices are the part of the access control system that actually does the work. They're the keycard readers, keypads, and biometric scanners that allow or deny access.
To choose the right entry device(s) for your small business, think about the level of security you need. Generally, the more secure (and high-tech) an entry device is, the more expensive and difficult to manage. If you manage a small retail store, access control might not be as important to you as a government agency, for example. Choosing a simple keypad will offer enough security to fit your needs without the added costs or frustration.
You'll also need to think of how many people will be using the system. If you have only one or two employees, a keypad with a single code will likely suffice. It'll keep anyone without the code out, and you'll have very little to manage. For businesses with many employees, a card reader might be better, so each user can have their own credentials. Just remember, each new user is more data to manage.
Four Walls Security: Small Business Access Control Experts
For small business security, it's hard to beat an access control system. Depending on the system you choose, they're cost-effective, secure, and easy to manage. Most small businesses will benefit from a wireless, cloud-based system with simple software, but there's no one-size-fits-all solution for every business.
If you need help deciding on the perfect access control system for your small business, trust the experts at Four Walls Security. We have decades of experience helping Brisbane-area businesses protect their properties with the perfect security solutions. Contact us for a free, no-obligation consultation to discuss your needs. We'll find the right access control system for you, guaranteed.