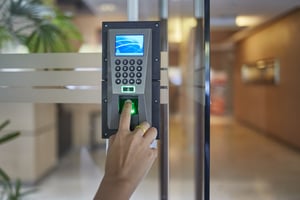 Access control systems are a great way to limit facility access to only those you trust, and they're steadily growing in popularity. The global access control market is expected to reach almost $20.5 billion by 2025!
This growth comes as no surprise. These systems are a powerful addition to any business security setup and can even integrate with your existing alarm systems for even tighter security. For businesses looking to maximize security, here's what you need to know about access control.
Access Control Defined
Essentially, access control is how you determine who can do what within your business. It's how you limit access to certain parts of your building to only those with the appropriate credentials. Without the right credentials (typically a keycard or PIN), the door won't open.
Benefits of an Access Control System for Your Business
The reason access control is so popular is because of the wonderful benefits it provides for business owners.
Prevent Theft
The main reason businesses utilize access control is to prevent theft. Naturally, the harder it is to get around your building, the less likely anyone will steal from you.
By managing access to sensitive areas around your business, you can restrict entry to only people you trust, like employees and management. Anyone without the right credentials will be locked out.
Maintain Security Logs
Many access control systems will keep a log of every time it's used. When someone swipes their keycard or enters their PIN, the system records the time, date, and user. You can check this information to keep track of who's doing what around your business.
If you discover some items are missing, you can go back through the records to see who was the last one in the area. This information will help you track down the right suspect and get back your property.
Integrate with Existing Security Systems
For an extra level of security, access control systems can be integrated with your existing security systems like intercoms, alarm systems, and CCTV cameras.
For example, integrating your access control system with your alarm systems will sound an alarm whenever someone doesn't enter the right credentials to access an area. Not only will this deter criminals from even attempting to enter sensitive areas, but it'll also help to notify you of unathorised entry quickly, helping you catch crimes in the act.
Types of Access Control
When shopping for security solutions, there are four basic types of access control systems you can choose from:
Discretionary Access Control (DAC) – Each entry control device has a list of users who have access. This type of access control is the simplest and offers the most flexibility.

Mandatory Access Control (MAC) – Each user is given unique permissions. It can be time-consuming to manage all the users, but this is by far the most secure type of access control.

Role-Based Access Control (RBAC) – Permissions are assigned based on role or status within the company. For example, anyone with a manager title is allowed in rooms A, B, and C. When someone is promoted, update their role in the system to give them manager access.

Rule-Based Access Control – Allows access based on a set of predefined rules in the system. For example, nobody is allowed in the office whenever the business is closed.
There are pros and cons to each type of access control. The one that's right for your business will depend on the level of security desired and the amount of time you or your team has to devote to managing the system.
Basic Access Control Entry Devices
Access control entry devices are what decides if a user has permission to enter an area. There are dozens of types of entry devices, but these are by far the most popular:
Keypad Reader – Input a numerical code or PIN for access.

Mag-Stripe Reader – Swipe a magnetic keycard to gain entry.

Proximity Reader – Similar to a mag-stripe reader, except you just simply press the credentials (usually a card) to the reader.

Biometric Reader – Uses fingerprints or facial scans to validate visitors.
There are benefits to each type of entry device. In general, keypad readers are the simplest and cheapest, but don't offer the same level of security as a mag-stripe reader. A biometric reader offers unmatched security but will be expensive and tedious to manage. Choose the one that has the best balance of cost, security, and usability to suit your business's needs.
All entry devices can integrate with your existing systems—like your alarm systems—to maximize business security.
Business Access Control from Four Walls Security
Choosing the right access control system for your business can be a challenge. Luckily, the experts at Four Walls Security are here to help. We have years of experience helping Brisbane area businesses choose and install security devices like alarm systems, access control systems, and CCTV systems to protect their assets. We'll walk you through the decision-making steps and help you choose the perfect security solution for your unique business needs.
Ready to get started? Contact us for a free, no-obligation quote today.