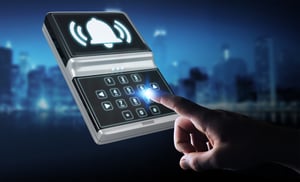 There's no doubt that every business should have an alarm system, but there's no one-size-fits-all option that'll work for everyone. A jewelry store will require different features than an accounting office. Picking a system with the right features is of the utmost importance for protecting your property, employees, and assets. When choosing which business alarm system is right for your unique needs, there are a few elements that you need to consider.
What Are You Protecting?
The first thing you should consider when deciding on a business alarm system is what you want to protect. This will influence the rest of the decisions you make throughout the process, since different assets are protected in different ways.
In the example above, a jewelry store would want to place more emphasis on protecting their physical assets. That means the installation of glass-break and motion sensors throughout the store. Without such physical inventory to protect, an accounting firm might not need the glass-break sensors and opt for a less extreme system.
Integrations with Other Systems
What other security systems do you have in place? Make sure that the business alarm system that you're choosing can be integrated with your existing systems like security cameras, intercom systems, and access control systems. Having several security systems operating independently is exhausting, confusing, and just plain unnecessary.
In addition to integrating with your existing systems, think about what security systems you might want to install in the future. Choosing an alarm that can integrate with all the systems you might need later on will make installation much easier, and cheaper, down the road.
Who Will Have Access?
Especially in larger businesses, there might be several employees who have the power to arm and disarm your alarm system. If that's the case, you might want to choose an alarm system that allows for multiple access codes for different employees. That way, you can keep a security log of who arms or disarms the system and when.
In addition to maintaining multiple access codes, check to make sure the system is user-friendly and easily managed. If an employee leaves your company and the codes aren't changed, you could have a security risk on your hands.
How Big Is Your Property?
The size of your property will also affect which business alarm system you install. Larger properties will require more sensors and a larger network. Generally, if you have a larger property, you'll want to install a wired alarm system. They're more reliable over long distances and, since they're hardwired into your building's power supply, don't require regular battery changes.
For smaller properties, a wireless alarm system operates on your business's Wi-Fi network for quick and easy installation. Wireless alarm systems can also be installed in larger facilities as long as there's sufficient internet connectivity throughout.
Environmental Monitoring
Many businesses use equipment or have inventory that's sensitive to environmental changes such as temperature or moisture. Most modern business alarm systems can be integrated with sensors that detect water, humidity, moisture, and temperature. If the conditions exceed the parameters set by the system administrator, the alarm is triggered, and you can react accordingly.
How Would You Like to Be Notified?
If an alarm is triggered, who should be notified? Most businesses choose to hire a professional alarm monitoring service. In the event of an emergency, your alarm will send an alert to your monitoring service who can then contact the proper authorities for a quick response.
Many business alarm systems can also be set up to send an alert to a specific user, which is typically the owner or a manager. These alerts can come in the form of a text, email, or mobile alert through a dedicated app.
Remote Access
You've spent a lot of time, energy, and money crafting your business into what it is today, so it would make sense that you always want to know what's happening. Many business alarm systems offer remote access, so you can check on your business's security from anywhere in the word. Whether you're in the office, at home, or in a different country, you can check on your business right from your mobile device.
This option is best for small business owners who don't have an army of managers to watch their property for them. It can also be helpful for owners who frequently travel but still want to be informed in the event something happens back at the office.
Understanding the Costs
Business alarm systems generally aren't as simple as home alarm systems, which can mean higher costs. When choosing a business alarm system, here are some of the main cost points to consider:
Initial cost of equipment

Installation

Service fees – which can include changing passcodes, managing user access, creating keycards, false alarms, etc.

Monitoring service (monthly fee)

Employee training
Not every business alarm system will have all these fees. Be sure to carefully read the service contract of your alarm system to understand what's included before making a decision.
Choosing a Business Alarm System with Four Walls Security
Your business is important, which means it needs to be protected. A business alarm system is a great addition to any security system. Since every business is unique, there's no perfect solution that'll work across the board. When deciding on a business alarm system, be sure to keep in mind what you're protecting, and make your decision based on what you need the system to do, who needs access, the size of your property, and how you'd like the system to function. Then, be sure to understand all the costs associated with your chosen alarm system so you don't go over budget.
Four Walls Security has years of experience working with Brisbane area businesses. If you have any questions regarding which business alarm system is right for you or would like more information about the process in general, contact us for a free, no obligation quote today.