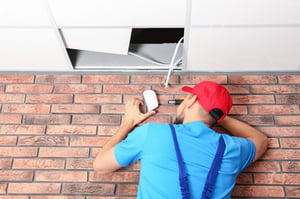 Installing an alarm system into your home or business is an investment, and many property owners choose the DIY route to cut some costs. What they don't know is that by installing an alarm system without professional help, they're actually hurting themselves in the long run. Using a professional comes with so many perks that it easily makes up for the cost of installation. Here's are nine reasons why you should avoid DIY and hire a professional to install your alarm system.
1. Easier Installation
The most obvious reason to hire a professional is that it's easier for you. If you hire a professional, you'll never have to strap on a toolbelt. You can stay in your comfy chair watching TV while the installation professional does the job for you. This is especially nice for larger properties that require a lot of sensors.
2. Avoid Mistakes
How many alarm systems have you installed? Chances are the answer can be counted on one hand. A professional security company has performed hundreds, if not thousands of installations. They've seen just about everything that can go wrong and know how to handle any situation that's thrown their way.
With experience comes less mistakes. If you perform the alarm installation yourself, how do you know you've installed it correctly? A professional knows the proper way to install your alarm system without having to find mistakes the hard (expensive) way.
3. Increased Protection
An alarm system that's been correctly (professionally) installed will offer better protection than one that was installed by an amateur. Mistakes equal security risks. The less mistakes you have during installation, the better protection you'll receive.
4. Customised Security Solutions
Most alarm systems designed for DIY installation are simple. They're designed so the manufacturer can print generic instructions that'll work for every property. Unfortunately, every property is different, so there's no magic "one-size-fits-all" alarm system that'll work for everyone. DIY systems simply don't offer the same level of protection as a customised alarm solution.
A professional will be able to analyze your property and install an alarm system tailored to fit your unique needs.
5. You'll Miss Out on Features
All professionals do is work with security systems. They know all the makes, models, and features of just about every security system currently on the market. If you hire a professional to perform the installation, they might be able to suggest equipment that would work better for your unique needs compared to what you'd pick out on the internet during a DIY job.
6. Better Support and Education
If you install an alarm system yourself and have trouble with it in the future, who's going to have your back and help you get it working again? You could call the manufacturer and try to troubleshoot over the phone, but they can only offer so much support without being there in person.
Getting your alarm system professionally installed means that you have a team of experts standing behind you if something goes wrong or if you need help managing the system. They'll be able to walk you through the proper operation of your system and ensure you know how to use it before the job is finished. Plus, if something goes wrong later on, they can give you detailed troubleshooting directions — since they do know what the system looks like — or even come out and help you in person. Most professionals offer some sort of warranty on their installation work.
7. Equipment Discounts
By choosing to install an alarm system yourself, you might save money on installation costs, but the truth is that you're probably spending more on equipment. Professional security companies have relationships with equipment vendors and can typically get steeper discounts compared to retail buyers.
8. Meet National Security Standards
Have you read up on Australian Standards for security system requirements? Well, professionals have. If you want your property's alarm system to meet national security standards, you should hire a professional. By meeting national standards, you could save additional money on your homeowners or business insurance. Some insurance companies even require that security systems meet national standards, especially on commercial policies.
9. Peace of Mind
In reality, the biggest reason to avoid DIY installation of your alarm system is for peace of mind. Your alarm system is supposed to protect your family, possessions, and property. With a job that important, only professional installation is good enough. You'll have peace of mind knowing that your system was installed correctly, is functioning properly, customised for your property, and that you have a team of experts ready to offer their support if anything goes wrong.
Looking for a new alarm system for your home or business? Four Walls Security is here to help. We have years of experience working with Brisbane area property owners, helping them protect themselves with integrated security solutions. If you're ready to take the next step towards unrivaled peace of mind, contact us to answer any questions or for a free, no obligation quote.