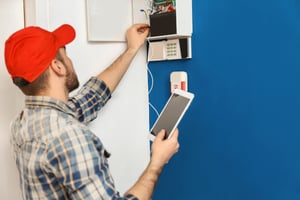 Alarm systems are like any other appliance or piece of equipment you use in your home or business. After a while, they become outdated and need an upgrade. There's a reason nobody carries pagers anymore; technology has advanced. The same principle goes for alarm systems. Here are a few signs to look for that indicate it's time to upgrade your alarm system.
If Your System Is Over 15 Years Old
A lot has changed since 2005. In the past decade, there have been so many technological advancements that most older alarm systems aren't even recognizable by modern security standards. If your alarm system is more than 15 years old, it's definitely time to upgrade.
If your alarm system is seven years or older, you might want to consider upgrading. New features are being created every year. You'd be surprised what's available now that wasn't when you bought your system.
If You Have a Wired Alarm System
For most residential properties and small businesses, if you have a wired alarm system, it might be time to upgrade. Wired alarm systems can be compromised with age. Over time, wires can break, bend, or disconnect which will affect the functionality of your system.
By upgrading to a wireless alarm system, you won't have to worry about aging wires. If you do have a wired alarm system, there's a chance you won't have to replace the system altogether. Many systems can be either transitioned into a wireless system or work as a wired/wireless hybrid. Hybrid systems add another layer of protection against security breaches.
If Your Wireless Control Panel Uses 2G
Wireless alarm systems communicate using radio frequencies like a cell phone. Also like a cell phone, your wireless alarm system can become outdated. You wouldn't still use a phone that operates on a 2G network, so why would you keep an alarm system that does?
Older wireless systems that use 2G communicators can't integrate with modern devices. Plus, some cellular networks are phasing out 2G altogether, meaning your alarm system might not work at all. Upgrading to a 3G, 4G, or even 5G compatible wireless alarm system will allow connectivity to more devices and ensure smoother operation well into the future.
Luckily, upgrading your 2G wireless alarm system doesn't always mean installing a brand-new system. Many systems can be upgraded by simply swapping out the communicator. Consult your security provider for options.
If You Use On-Site Monitoring
Who gets alerted when your alarm goes off? If the answer is just you and your neighbors within earshot, it's time to upgrade. Most modern alarm systems are managed by an off-site alarm monitoring service. If an alarm is triggered, it sends an alert to a trained security professional who can assess the situation and contact the proper authorities. Even if no one is nearby to hear the alarm, you can be assured that the situation is being handled, day or night. Alarm monitoring services offer unmatched protection for your property.
Remote Alarm Monitoring
Modern systems can even send alerts to mobile devices. If your alarm system is triggered, you'll get an alert sent straight to your mobile device in the form of a text, email, or push notification. Even if you're on the other side of the world, you'll be able to react in case of an emergency. There's no reason to continue relying on someone to hear your alarm if something goes wrong.
If You Made Home Renovations
Major home renovations could mean that it's time to upgrade your alarm system. By adding doors and windows, you've created more entry points into your home. Once you're finished making renovations or additions, don't forget to upgrade your alarm system so that all new entry points are covered.
If you have a wired alarm system, renovations are a great time for an upgrade. You'll have access to the wires behind the walls to make changes or additions to the system.
If You Have "Just an Alarm System"
There are so many security integrations on the market right now that if you have only an alarm system protecting your property, you should think about making some upgrades. Today's alarm systems can be integrated with all sorts of smart features including security cameras, access control entry devices, and intercom systems to name a few. The more security integrations you have, the more secure your property is going to be.
Most security devices can also be accessed remotely from your mobile devices. That way, you can view camera feeds, use your intercom system, and manage access control from anywhere in the world.
Alarm System Upgrades from Four Walls Security
If you think it might be time to upgrade your alarm system, talk to the experts at Four Walls Security. We can discuss your options and make any necessary improvements. Once your system is upgraded to modern standards, we also offer professional alarm monitoring services for unmatched protection. Our goal is to give you peace of mind knowing that your property and everything inside is safe at all times. Contact us with any questions or for a free, no obligation quote today.