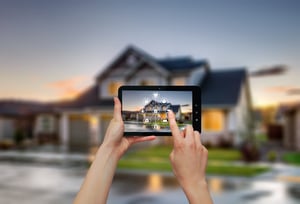 Every home is unique. That's why it's important to decide which features are important to you before choosing a home alarm system. Think about what you're trying to protect, then pick the options that will best fulfill your needs. Here are a few things to consider when choosing an alarm system for your home.
What Are You Protecting?
The most important question you need to ask yourself when choosing the best home alarm system — or any security system for that matter — is, "what are you protecting?" It might be your family, your property, possessions, yourself, or a combination of a few.
Your answer will help guide you through the rest of the decision-making process. The alarm system that's perfect for someone who lives alone might not be ideal for a family with young children.
What Integrations Are Available?
Many home alarm systems can be integrated with other security systems such as security cameras, intercom systems, and/or access control systems. If you already have some security devices installed, make sure that your new alarm system will be able to integrate with your existing systems.
It's also important to think about the future as well. Just because you don't have any other security systems right now, doesn't mean you won't add them later. Think about the systems you'd like to install and pick a home alarm system that can integrate with any future systems you might get as well.
How Big Is Your Home?
An apartment alarm system that's designed to operate with three window sensors and one door sensor isn't going to work in a mansion. The size of your home will have an impact on which alarm system you choose. It'll affect whether you choose a wired or wireless system, how it's installed, and the price points for your new alarm system.
Wired or Wireless?
Home alarm systems can be divided into two categories: wired and wireless. Wired alarm systems, as the name might suggest, are hard-wired into your home. All sensors are physically connected to the central terminal and directly integrated with your home's power grid. They're generally considered to be somewhat more reliable, but they're also harder to install.
Wireless systems operate using a secure wireless frequency. So, if sensors are too far away from the terminal, or there are too many obstacles in the way, it could interfere with the signals and your alarm system might not function properly. They also need to have power, which means keeping track of battery changes. Wireless systems are generally cheaper and easier to install, but they don't work well in large homes with spotty network coverage.
DIY or Professional Installation?
Of course, to ensure proper operation and maximum protection, it's always best to have your security systems professionally installed, but sometimes, it makes more sense to want to install your home alarm system yourself.
If you're looking for a basic, wireless home alarm system for your small home or apartment, installing it yourself might be the right option. If you need a more secure alarm system with several integrations, it makes more sense to hire a professional to install it. While it might be more expensive, a professional will ensure that your system is installed correctly and meets Australian and insurance company standards.
What Is Your Routine?
Your personal routine will also have an impact on which alarm system you should choose. How often is someone home? People who travel a lot might need a more secure home alarm system compared to someone who stays home most of the time.
If you do travel often, you might be interested in an alarm system that offers remote monitoring. Remote monitoring allows you to keep an eye on your security system from your mobile device, even when you're away from home.
Do You Need Professional Monitoring?
Most home alarm systems can be linked with a professional alarm monitoring service. If an alarm is triggered, the system will send an alert to a security professional who can immediately respond to the threat. Using a monitoring service allows for faster and more accurate responses to an emergency.
While it's a great service to have, it's not essential for your alarm system to function. It all depends on your unique needs. People who are frequently away from home might enjoy the peace of mind that comes along with knowing a professional is monitoring their alarm system 24/7.
What Is Your Budget?
While it's often one of the first things that people think about when choosing an alarm system, your budget should actually be the final consideration. After choosing the ideal home alarm system for your needs, narrow down the options based on your budget. Most popular alarm systems offer different service and price tiers. Look for the right system first; then think about price.
It helps to create a list of all the options that appeal to you during the decision process. Give each option a ranking based on how important it is to you. When it comes time to select a system, start cutting the least important options until the chosen system is within your budget. That way, you get all the most important features without breaking the bank.
Choosing a Home Alarm System with Four Walls Security
Every home is different, so there's no "best" alarm system that's ideal for everyone. When choosing a home alarm system, think about what you're trying to protect and choose options that'll best suit your lifestyle. Keep in mind the size of your home, other systems to integrate, your personal routine, installation preferences, and last but not least, your budget.
Because there's no one-size-fits-all solution for choosing a home alarm system, it can be difficult to choose the perfect system for your unique needs. If you have any questions regarding the selection or process of installing a security system, ask the experts at Four Walls Security. We have years of experience working with Brisbane area families and can help you find the answers you're looking for. Contact us for a free, no obligation quote today.