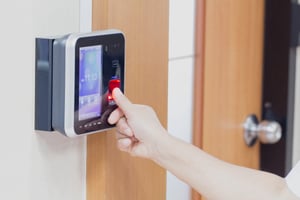 Burglary. Destruction of property. Vandalism. Fraud.
These are dirty words for any business, but they're particularly daunting for small businesses – many of which lack the security infrastructure, staffing, and resources to protect themselves from crime.
Small Businesses Are Big Targets
Unfortunately, the relative vulnerability of small businesses makes them prime targets for attack. Business insurer Nationwide reports that cyberattacks levied against small companies are on the rise, citing their small security budgets that let criminals evade detection.
When it comes to physical crime, though, things are a bit murkier. Though some criminals may target small businesses for their apparent lack of security, just as many may target larger businesses due to the "anonymity" they feel while in-store alongside misguided ideals that larger companies won't be affected by the crime. While larger companies do have more ability to absorb these losses, the long-term impacts are still significant, regardless of business size.
According to the 2018 Sensormatic Global Shrink Index Report, shoplifting alone accounts for 35% of total losses in U.S. businesses of all sizes. While this is certainly damaging to larger retailers like Target or Kroger, smaller businesses have lower profits and leaner margins that make these impacts more severe. Even a small amount of shoplifting can substantially cut into a small business's returns.
And these risks involve only the in-store crimes of theft/stealing. What about other business-related crimes, such as break-in burglaries after hours, loitering, or exterior vandalism?
Each of these issues can be a real concern for small businesses trying to compete in a crowded market – especially those without integrated security architecture behind them.
The Biggest Issue: Lack of Infrastructure
While it's hard to say if criminals target small businesses more than larger businesses, this much is clear: smaller businesses ARE more vulnerable to crime than their larger counterparts. At least, in the sense that they're usually less equipped to handle it – both in defending against it and in managing the aftermath.
Larger businesses and chains often have dedicated security systems, alarms, video monitoring, and internal intercom systems to facilitate communication among staff. They may even have dedicated security personnel monitoring these systems and customers in the store, offering a comprehensive level of security that's reserved for capital-rich enterprises.
Most small businesses don't have this luxury.
At smaller companies, security investments are usually limited to basic CCTV monitoring or alarm systems. This puts them at a disadvantage when it comes to anticipating threats, and it often makes them bigger targets from criminals who are savvy to security infrastructure. (Naturally, a store without exterior cameras or fencing will be a preferable target than a business with 24/7 monitoring and access controlled gates.)
Fortunately, small business owners aren't alone in the fight! There are plenty of sophisticated security systems available these days, many of which can be deployed without substantial integration time or up-front costs.
Four Walls Security Solutions for Small Businesses
At Four Walls Security, we specialise in business security solutions for companies large and small. Aside from technical infrastructure like access control points or alarm systems, our cloud-based solutions are wireless and keep your company connected to our central control room. This allows us to provide ongoing monitoring of your business and fast responses to emerging threats.
Combined with other solutions, such as integrated CCTV video monitoring and intercom systems, even small businesses can develop powerful security systems that keep their assets safe.
Don't spend another day with an outdated security system for your small business! Four Walls Security will handle every part of your security deployment to make things easy:
Needs assessments

System design

Installation

Monitoring

Hardware servicing
Contact our team to get a free, no-risk quote for our managed security solutions. End-to-end business protection is only a few steps away!