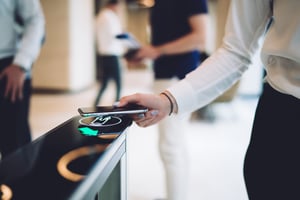 There's no such thing as a "one-size-fits-all" access control solution for every small business. What's important for your small business might not be important for the business down the street. So, when choosing an access control system, consider your unique needs and choose a system that works best for you.
To ensure you pick the right one, here are the steps to choosing the right access control system for your small business.
Decide on Your Security Needs
The first step to choosing the right access control system is deciding what exactly you need it to do. Think about your ultimate security goals. Do you just need a way to prevent non-employees from using the back door, or do you need something more robust that can validate visitors at multiple entrances and keep track of security records?
Make a list of all the threats to your business, both internal and external, and the assets you want to protect. This will be your access control checklist. When it comes time to choose the right system, you'll be able to go down the list and find the exact one to match your needs.
There are two parts to creating your security goals. First, think of your current needs. How many entrances do you need to protect, how many employees do you have, and what level of security do you need? This will be the starting point for the decision-making process.
Next, think about your future goals. You want to choose a system that can scale with your growing business. If you plan on expanding in the next few years, make sure your system can handle it. Otherwise, you might be going through this process all over again soon.
Pick Out Your Entry Devices
Once you've identified your security goals, it's time to choose which entry devices you need. Entry devices are the physical pieces of equipment that keep your doors locked until the right credentials are presented.
There are quite a few entry devices available, each with different functions. These are some of the most common:
Keypad – users enter a numeric PIN to gain entry.

Card Reader – users swipe a magnetic access card for entry.

Proximity Reader – similar to a card reader, except it doesn't require a swipe. Users simply touch their credentials (whether it be a card, fob, or even smartphone) to the reader for access.

Biometric Scanner – scans a user's fingerprints or face for validation.
Your goals will help you choose the one(s) that's right for your business. For example, if you only need to restrict access to a single exterior entry point, a simple keypad will get the job done with very little installation, maintenance, or ongoing management required.
If you're looking for something a little more robust, a network of proximity readers might be what you need. You can give each user unique credentials, and the system will track each user's whereabouts in a detailed security log.
The right entry devices for your small business depend on the level of security you want versus how easy it is to manage.
Integrations with Other Security Systems
Do you currently use an alarm system, CCTV cameras, or an intercom? If so, you'll want to choose an access control system that can integrate with your existing security measures. A single, integrated system is much easier to manage than several independent systems—especially for small companies with limited time and human resources.
Of course, you don't just want to think about your current security systems; think about what you might need in the future. Even if you don't have a CCTV surveillance system installed now, you might want to get one in the future. Make sure your access control system will be able to integrate with other systems in the future (or vice versa).
Consider Your Current IT Infrastructure
Data management is an essential part of an access control system. All those user permissions and security logs need to be stored somewhere. If you have a strong IT infrastructure already in place—complete with servers and staff—an on-site system might be your best bet. Keeping your system entirely in-house gives you more control over its management.
Of course, many small businesses don't have the capital, workforce, or time to manage on-site systems, so many opt for a cloud-based access control system. In a cloud-based system, all your data is stored in off-site servers and maintained by a professional security provider. To manage your system, all you need to do is log in from any device.
While you won't have complete control over server management, cloud-systems provide unmatched usability. They're perfect for any small business that doesn't have the time or knowledge to deal with technological maintenance.
Four Walls Security: Small Business Access Control Experts
Choosing the right access control system to fit your unique business needs is a daunting task. There are so many options to choose from, narrowing them down can be a challenge. To make the process a bit easier, outline your current security needs and future goals. Then, choose a system that will be able to fulfill every need in your outline. Of course, it also helps to work with a security expert.
Four Walls Security has been working with Brisbane-area business owners for decades, helping them choose and install the perfect security solutions to suit their needs. We'll take the time to learn about your business to find the right access control system for you. Contact the experts at Four Walls Security for a free, no-obligation quote to discuss your needs, and protect your business from threats.