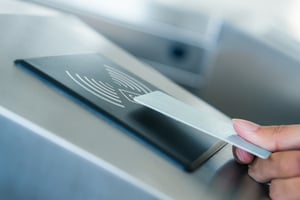 Although discussions around physical security systems have taken a backseat to digital-centric cybersecurity solutions these days, good old-fashioned physical security is still a must for any organization with a brick-and-mortar presence.
Whether you're a small business with one location or an enterprise with multi-site access control needs, you'll need a thorough security system capable of protecting your assets and warding off attention from unwelcome visitors. Below, we'll review a few foundational options for a quality access control system.
Select Your Entry Device
Start by reviewing your security needs and what your access control system is intended to accomplish. Audit your business to see how many entrances need to be covered, how many employees will be using them, and how secure those entry points need to be. This planning process will give you a good foundation for choosing your access control system, starting with entry devices.
Broadly, modern entry control systems fall into one of these categories:
Keypads that use numeric PINs or codes to grant access
Card readers with magnetic stripes
Proximity readers that link to smartphones apps or fobs
Biometric scanners that scan a user's fingers or face for validation
Keep costs in mind as you review options. Generally, more sophisticated security systems come with higher costs, and may not always be necessary for smaller businesses with fewer resources at stake. Balance your security needs with your available resources to find a system that matches your business's unique needs.
Consider Which Integrations to Include
Access control systems, strictly speaking, refer to the tools and technologies you use to let people in/out of the building. But these aren't the only parts of a coordinated business security system!
Keep in mind how your access control tools will integrate with your other security solutions, such as CCTV cameras, alarm systems, and intercom systems. Each can be integrated into your business to create more comprehensive security as needed. But even if you stick with basic access control tools, you still have integration options at your disposal.
The security solutions we offer here at Four Walls can be integrated with user-friendly software for security system management, complete with these features:
Open doors remotely or lock-down buildings as needed
Add or delete authorized users from the system
Adjust each user's security clearance level
Automate lighting and air conditioning
Audit traffic flows and movement
We recommend this as a simple solution for remote access control management, though every company has its own characteristics that should be taken into account.
Buying or Leasing?
Another consideration in finding the right access control system is whether you'll lease a security system or purchase one outright.
The choice here depends on your resources and your long-term goals. Leasing access control systems offers a lower cost of entry and gives you the flexibility to scale your system up/down as needed, though it may come with longer lifetime costs compared with an up-front purchase.
If you're considering leasing, note that Four Walls offers several types of payment plans that split the up-front costs into several, more manageable payments spread out over time. This makes it easy for companies of any size to find solutions that meet their security goals, even if they don't have the liquidity to purchase them all at once.
Protect Your Business With Four Walls Security
It's not easy to find the perfect business security system. Unlike other business investments, your access control system of choice will have a direct impact on business security and whether unauthorized users can make their way in. As such, it helps to have the expertise of a professional security company behind you when making your selections.
Four Walls Security has years of experience helping businesses of all sizes assess and deploy security systems. Contact us for a free, no-obligation quote and start implementing your security goals today!