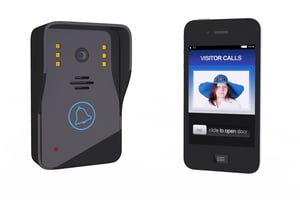 Intercom systems are great for communicating from room to room, but wouldn't it be nice if you could access your intercom system on the go? Well, you can!
Many intercom systems offer mobile connectivity features, so you can link your cell phone or mobile device to your intercom system for fast, easy remote access. If you're interested in taking your home or business intercom system with you when you're away, here's what you need to know about intercom system mobile connection.
Choosing the Right Type of Intercom System
Not every intercom system is compatible with mobile connection. Only specific models from certain manufacturers can connect to your mobile device. When choosing intercom systems, make sure the system can connect to the internet and offers mobile device connectivity. A good indicator that an intercom system offers mobile connectivity is if it has a dedicated mobile app.
The Aiphone JO series is one of the most popular mobile-friendly intercom systems on the market. It offers room-to-room connectivity like standard intercom systems but also offers remote connectivity via mobile app from any device, anywhere in the world.
Benefits of Intercom Systems with Mobile Connection
If you have a cell phone, why would an intercom system mobile connection be beneficial? Couldn't you just call whoever you want right from your phone? Yes, but remote access to your intercom system allows you to communicate with anyone at your property, not just those whose phone numbers you have.
Connecting your intercom system to your mobile device offers many more benefits than just talking to people:
Speak to visitors at your home or business while you're away

Maintain access control by validating visitors remotely

Push-to-talk options for simplified remote communications

Monitor your property remotely for increased security

Video intercom systems can act as a security camera
Accessing your intercom system remotely can help you increase your property's security, especially when you're away. If someone pays your home or business a visit while you're not there, you'll still be able to communicate with them through the intercom system using your mobile device.
Applications of Mobile-Accessible Intercom Systems
Mobile-friendly intercom systems are a great way to boost your property's security, but they're especially helpful for certain situations. Here are some of the best applications for intercom systems with mobile connection:
Businesses – If you run a business, it can be difficult to keep up with the day-to-day happenings when you're not onsite. With a mobile-friendly intercom system, you can keep tabs on employees and communicate with your team on the go. You don't have to be in the office to run your business.

Apartment complexes – Intercom systems are extremely helpful in apartment complexes. They can help keep residents safe by allowing them to talk to visitors before allowing them into the building. With a mobile-friendly intercom system, residents can talk to visitors even when they're not home. This is helpful if residents are away for extended periods and need someone to check up on their apartment. They can speak to and let in visitors from wherever their travels take them.

Homes – Intercom systems add an extra layer of protection to your home. If you install an intercom system at your front door, you can validate and talk to visitors before you let them into your home. When you're away, a mobile-friendly intercom system will let you keep tabs on your front porch while you're at work or on vacation. Get a video intercom system for even more protection!
No matter what kind of property you manage, intercom systems with mobile connection offer a wide range of benefits to help you secure and manage it safely and efficiently.
Mobile-Friendly Intercom Systems from Four Walls Security
An intercom system with mobile connection will allow you to keep tabs on your property and communicate with those onsite 24/7. Whether you're out for the day or for the week, you'll be able to manage your property and keep everyone safe right from your mobile device.
Want to learn more about the benefits of intercom systems? The experts at Four Walls Security have decades of experience helping Brisbane area business and home owners protect their properties with advanced security solutions personalized to fit their needs. Contact us to get a free, no-obligation quote on your next security solution and experience the peace of mind a mobile-friendly intercom system can provide.