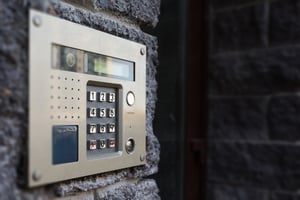 Video intercoms are all the rage lately. Between residential and commercial applications, the global video intercom market is growing at an impressive 12.8% compound annual growth rate (CAGR) and is expected to reach $56.18 billion by 2025.
Despite its incredible popularity, a video intercom system isn't right for everyone. So, how can you decide if you really need a video intercom system or if it's just a waste of money? Here are X ways to find out.
Is Visitor Validation Important to You?
You can tell a lot about someone from just their voice, but not everything. A standard audio intercom will only let you talk to a visitor, but you won't be able to see their face. How often have you answered the phone and not known who you're talking to? Well, it's the same idea.
For some, it's not essential to know who's at the other intercom. A business with a lot of new visitors won't benefit from a video intercom system because you won't know what your visitors look like in the first place.
For homes and high-security businesses who need to validate visitors before allowing them inside, you need a video intercom system. It's the only way to be sure the person on the other end is who they say they are.
Do You Have CCTV Security Cameras?
For homes or businesses that don't have CCTV security systems, a video intercom system is definitely a good idea. While they aren't as powerful as a bonafide CCTV system, a video intercom will offer real-time video surveillance capabilities. Many of them can save video recordings as well to help catch criminals in the act.
If you already have a CCTV security system installed in your home or business, a video intercom system is unnecessary. Since they're not as good video-wise as a CCTV system, adding another video-based security method would just be redundant. Save your money and get an audio-only intercom system and integrate it with your CCTV system.
Do You Have Young Children at Home?
If you have young children, you want to keep them safe. When the doorbell rings, you need to know who's there before you answer the door. The second you unlock and open the door, an intruder can easily get inside and potentially hurt your family.
A video intercom system will let you see who's behind the door. If it's not someone you recognize, you can keep the door shut and locked to keep your family safe.
Video intercoms are great for kids to use too. Kids love to answer the door, but it's not always safe. Letting them see who's behind the door first will prevent them from letting strangers into the house.
As an added bonus, a video intercom system will also let you keep tabs on your kids as they get older. Tell them to be back by 10 pm? You can watch the intercom feed to make sure they're home on time.
Are There Restricted Areas in Your Business?
Your business doesn't need to have an open-door policy for every room. If you want to restrict access to certain areas, a video intercom is a perfect addition to your security system.
Access control systems are great for keeping people out of restricted areas, but they have limitations. Keycards can be stolen, and PINs can be shared. A voice and a face, however, that's pretty hard to fake.
A video intercom system will allow you to visually verify anyone who enters rooms with an intercom unit. If they're not allowed inside, you can keep them locked out.
Just be aware, performing access control functions will a video intercom will take more time and effort. Access control systems are automated. You'd need to have someone watch the video intercom system and allow or deny access, which would be more expensive. If your restricted areas need the utmost levels of security, a video intercom system might be worth it.
Choose the Right Video Intercom System with Four Walls Security
Choosing the right intercom system for your specific needs can be challenging. Selecting one without necessary security features could leave your property vulnerable. However, if you choose one with more functions than you need, it'll cost you unnecessary money.
When shopping for intercom systems, think about your needs. If you need to see who's behind the door, don't have a CCTV security system, or if you need to restrict areas of your building, a video intercom system might be right for you.
If you need help deciding if a video intercom system is right for you, contact the experts at Four Walls Security. We have decades of experience helping Brisbane area home and business owners protect their properties and enjoy more peace of mind.
Ready to secure your property? Contact us for a free, no-obligation consultation to discuss your needs.