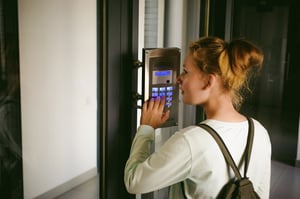 Implementing any security system comes with its fair share of challenges. To ensure your intercom system is prepared to meet your needs, here are five intercom system dos and don'ts to help you guarantee proper site security.
Don't: Choose a Wireless System for Large Properties
Wireless intercom systems are all the rage. The simple setup cuts installation costs drastically, making them a cost-effective security solution for any property. While they might be cheap and easy to install, they're not right for every property.
Wireless intercom systems communicate using radio waves. Have you ever been on a long drive and heard the radio station get weaker and fuzzier as you get farther away? Well, the same thing happens to wireless intercom systems.
If you own a large property—or multiple properties—a wireless intercom system won't cut it. The more distance, walls, and equipment that stand between your intercom units, the worse the quality is going to be.
Whether you're trying to cover a large property or installing an intercom system over far distances (like at your front gate), a wired system is the only way to get the clarity and reliability you need.
Do: Consider Your Future Security Goals
Whenever you implement a new security system, you don't just want it to work for you now; it also needs to work for you in the future. Ask yourself the following questions:
Do you plan on expanding your property?

Will you need more intercom units in the future?

Are you planning on installing new security systems like alarms, cameras, or access control devices?

Will your security needs change in the future?
Sure, you might have a small property now, but what happens if you expand? You'll need more intercom units to cover the new space. If you chose a system that's not scalable, you might have to replace the entire system!
When choosing intercom systems, think about your future needs as well as your current ones. It'll ensure everything will be able to keep up with demand and save you money (and headaches) for years to come.
Do: Integrate with Other Security Systems
Integrated security systems are always more secure than the sum of their parts. Access control, CCTV, and intercom systems are good separately, but together they're unstoppable.
With an intercom system, you can talk to visitors before they enter your building. Integrate it with a CCTV system, and now, you can see the visitors you're talking to. Add an access control integration, and now you can choose whether to let people in after seeing and talking to them for unmatched security screening.
Before you choose an intercom system, make sure it can integrate with your existing systems and—if you follow the previous rule—the systems you plan to have in the future.
Don't: Install Intercom Systems in Noisy Environments
Intercoms are always on speakerphone. Remember that when you're choosing where to install your system. Any background noise will carry through the receiver. Don't install intercom units in locations with constant noise.
For example, say you want to install an intercom system in a manufacturing facility. It's probably not the best idea to put an intercom unit near the assembly line. With all the machines and equipment, it'll be impossible to hear anything.
If you absolutely need to put an intercom in a noisy environment, choose a system that offers noise-cancelling features. It won't completely eliminate background noise, but it'll at least make your intercom usable.
Do: Get Professional Installation
It might be tempting to save some money on installation and get a DIY intercom system. After all, how hard could installation be? But DIY installation is one of the biggest "don'ts" in the security world. With something as important as your home or business security, wouldn't you rather everything get installed properly?
A professional will learn about your needs and take a look at your building to suggest the right system to fit your unique property. With their extensive experience, they'll be able to install your intercom system properly the first time to ensure everything works the way it should and will be able to stand the test of time.
Even after installation is complete, most professionals offer ongoing support if you run into problems. With a DIY solution, you're on your own for any issues.
Working with a professional is the best way to ensure you get the best products, services, installation, and support on all your security solutions.
Work with Four Walls Security for Your Intercom System Needs
Security solutions are too important to trust just anyone. You need an expert on your side. You need Four Walls Security. We have years of experience helping homeowners and businesses in the Sydney area identify, procure, and install intercom systems to suit their unique needs. We won't let you fall into any security "don'ts."
Ready to boost your security with an intercom system? Contact the pros at Four Walls for a free, no-obligation quote today.