Choosing the Right Intercom System
Business intercom systems aren't a new technology, but even in 2020, the market is growing fast. The global video intercom device market was valued at $1.8 billion in 2018 and is projected to reach a cool $2.3 billion by the end of 2024.
Clearly, intercom systems are a popular integration for businesses seeking better security, visitor control, and communication, but with the market growing as fast as it is, there are plenty of options to choose from. And it goes without saying that not all business intercom systems are created equal. If you're interested in exploring the benefits of dedicated intercom systems, it'll help to start by getting acquainted with the options and features at your disposal. This is the easiest way to find a solution that works for your business — and produces the benefits you're looking for!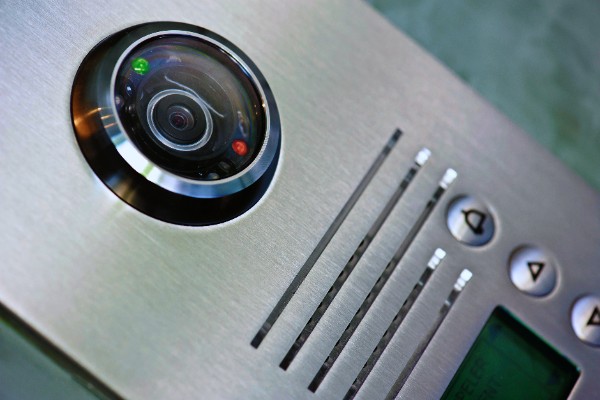 The right intercom system can bring a host of benefits to your organisation. Specifically, we'd like to review the benefits of business intercom systems alongside the benefits of apartment intercom systems — the two biggest applications of audio and video intercom technology.
The Benefits of Business Intercom Systems

For businesses, the chief benefits of an intercom system are getting more control over how you communicate and who you let in the building.

Most basic intercom systems offer access control tools that help companies validate visitors before admitting them, and when those intercoms are applied across various checkpoints, offices, and entrances throughout a business operation, it can bring a whole new level of security to the enterprise. These control systems may be as simple as an audio microphone, or they may include more sophisticated features, such as adjustable video cameras or alarm integrations.

The security advantages of this approach are self-evident, but security isn't the only benefit. This type of integrated technology can produce measurable cost savings for companies as well.

Aside from reducing liability and the risks associated with poor visitor control, security systems can help businesses curtail excessive staffing costs. We've all seen how companies employ dedicated security personnel to validate guests and control access to the building, but in most cases, these personnel aren't needed full-time — and their associated staffing costs can quickly eat away at profits.

Dedicated business intercom systems offer a different, leaner approach that emphasises integrated security technology over more numerous administrative staff. It's a simple adjustment that nearly any business can make.

The Benefits of Apartment Intercom Systems

Another area we'd like to focus on is dedicated intercom systems for apartment complexes and residential properties.

Much like for businesses, the benefits of apartment intercom systems relate to security. And this level of security is of vital importance for residential applications, perhaps even more so than for ordinary businesses. Indeed, the perceived security value of a residential property is often a big factor in whether tenants will sign on. In this way, poor security isn't just poor practice. It's detrimental to the property owner's revenue.

(And according to FBI data from 2017, in the United States, there was one burglary every 23 seconds. Naturally, unprotected buildings are at greater risk for intrusion.)

Integrated security systems offer a solution to this issue, but these tools provide more than just access control or communication efficiency. The real underlying value of the technology for property owners and residents is peace of mind. Residents in apartment buildings deserve to feel safe within their four walls, and intercom solutions offer a great way to make this goal a reality.

Just think how these integrated tools could boost a residential property's security value. Outside visitors can be restricted with exterior control systems, making sure that all guests are meeting someone who lives in the building. Integrating your closed-circuit television (CCTV) security systems can push this value further, but why stop there? For apartments looking for big security boosts, dedicated intercom systems can be installed in each apartment as an exterior access control tool or for internal, room-to-room communication. This gives each resident complete control over who they let into their homes — an absolute must for comfortable apartment living.

Read more about the benefits of integrated intercom systems:
Types and Features of Intercom Systems

Of course, the benefits of intercom systems are contingent on which system you select and how it's applied to your property. Let's review the different types of intercom systems you'll see in the marketplace and the biggest distinctions worth noting.

Hardwired: Straightforward system that usually needs to be built into the property's construction yet offers unparalleled clarity, reliability, and system security.


Wireless: Newer, faster to deploy, and more cost-effective than hardwired systems, wireless systems offer a great method for connecting many devices at a distance without substantial construction.


Carrier-Current: An older strategy that connects intercoms to your existing electrical system, offering a low-cost yet unreliable connection.


Automatic Gate Entry: More advanced access control system with dedicated features for remotely controlling and unlocking gates.
Mobile Connection: One of the newer styles of intercom communication involves mobile connections. Operators can use a smartphone app to speak with other users in the system.

These are the primary types of intercom systems that you'll be choosing from, but keep in mind that there's no one solution that's perfect for all businesses. Depending on your property's needs and available infrastructure, you'll find that certain options make more sense than others.

For example, it's rarely feasible to install a hardwired integrated security system across a large enterprise, given how time-consuming and expensive construction costs can be. For larger applications like this, wireless systems offer a much cheaper approach.

Conversely, some properties may need to make intercom security a bigger priority than others (think hospitals or government buildings). For these cases, wireless systems may be a poor fit, as they're the easiest option to hack, meaning that hardwired systems may be more worth the investment. Keep these distinctions in mind, particularly as you debate the merits of wireless vs. wired intercom systems.
Intercom System Features to Look For

Depending on which intercom system you go with, you'll want to keep an eye out for specific features that will help boost system operation.

Internet Connectivity: Integrate your intercom system with Wi-Fi, smart voice assistants, or other internet-of-things online channels.


Remote Access: Access your intercom system from your smartphone or tablet.


Video Calling: Integrate cameras into your intercom system to enable an important visual element for security and communication.


Scalability: As a company grows, so too must the intercom system. But not all intercom systems can be up-leveled easily. If you anticipate growth in the near-term, look for systems that can scale alongside your business.


Group Calling: Need to make announcements, alerts, or otherwise speak to an entire network at once? Group calling features let you broadcast to all intercom nodes at once.


Noise Cancellation: Some intercoms offer noise-blunting features, ideal for intercom systems in areas with loud machinery or ringing phones.


Extended Range Hubs: Wireless systems rely on proximity to be effective, so if wireless intercom systems are spaced far apart, you may need extended range capabilities.

This is just an overview of the features you'll be able to choose from in your intercom system, but again, not all companies need to worry about each of these integrations. Make sure you know which specific features will boost your intercom system's viability.

Read more about types of intercom systems and their features:
System Servicing and Operational Things to Know

Here, we'll review a few final things to consider before you purchase and what type of ongoing maintenance your system will need. Don't neglect this important step! No matter which system you choose, regular maintenance will improve its operation and extend the life of your investment.
Choosing Video or Audio

When people hear "intercom" they still tend to imagine audio-only devices, but these days, video intercom systems are becoming the standard. The security advantages of being able to see visitors are clear — so, should every business consider a more advanced video option?

Not necessarily. Video surveillance systems are unquestionably more suitable for business security, but it can be challenging to maintain a large-scale video system across multiple sites. Some companies choose not to bother — to the detriment of their corporate security!

The good news is that modern video intercom systems are more accessible than ever before. Today, companies can hook up their CCTV camera systems to the cloud, allowing users to control operations, review footage, and monitor devices from anywhere. A system like this, in essence, creates a single, centralised hub where data is shareable across locations and devices. It's an entirely new way to manage your security assets, and if you've stuck with audio-only systems up to this point, you might be surprised at what these new video intercom systems can do.

All Systems Require Regular Maintenance

You put in plenty of time choosing a business intercom system, so don't let it fall out of date! Your business intercoms and CCTV camera systems need regular servicing to guarantee that they work as they should.

Ensure smooth system operation: Clearly, regular maintenance keeps the system up and running. Technicians review system performance, clean out each camera component, and monitor the equipment's installation area to make sure everything is functioning well and tidy.


Maintain standards for insurance: Some insurance providers offer discounts based on the security infrastructure you have installed, and if you're enjoying this benefit, regular maintenance must be part of the process. The last thing you need is for a break-in to occur only to find that your camera system was down — creating insurance liabilities on top of your initial losses.


Cut down on equipment costs: As anyone who's owned a home or a car knows, an ounce of prevention is worth a pound of cure. Regular maintenance inspections help you stay ahead of equipment issues and find solutions before the costs balloon into major expenses.

Read more about CCTV camera system servicing and operations:
Business Security With Four Walls

Business intercom systems aren't a new trend or a fad. They're a time-tested way to boost your building's security. But like any tech integration, the devil is the in details — and the details of your intercom installation will influence how the system works and what benefits you can expect. It's a lot to take in all at once, so take your time as you decide and browse through the information at your fingertips. This is the best way to make an informed decision about which business intercom system will be best for you.