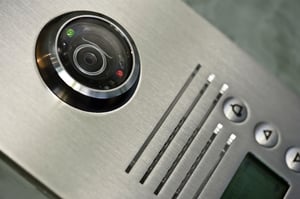 In the intercom world, video intercom systems are all the rage. They're quickly taking over as the most popular type of intercom system in the world. According to market reports, the video intercom market is expected to almost double from $30.35 billion in 2020 to $55.91 billion by 2025.
But, just like with audio-only intercom systems, there's no "one-size-fits-all" video intercom solution that fits every property. With so many options and features available, it'll take some serious research and considerations to identify the perfect system for your needs. Here's how to choose the best video intercom system for your property.
Consider Your Needs
As with any security system, the first step to identifying the perfect solution is to think about what you need the system to do. Make a list of everything you want the system to do:
Validate visitors

Provide access control measures

Maintain a visitor log

Store security footage

Offer remote access

Or whatever else you need for top-notch security
Take the time to seriously consider your security needs. For example, storing security footage is important for any home or business. If you already have a CCTV security system installed, you probably won't need your video intercom system to do the same thing. That would be redundant and, honestly, a waste of money. If you don't have a CCTV system, it might be an important feature you need in a video intercom system.
Your goal sheet will be your checklist as you research the various features of different video intercom systems.
PTZ Features
How high-tech do you need your camera to be? Higher-end video intercom systems can come equipped with PTZ features—which stands for "pan, tilt, zoom." These cameras can "look around" to see specific things. For instance, if you're not quite sure what that thing is on the very edge of the viewing area, you can pan the camera over and zoom in to see exactly what's there in full detail.
PTZ features are helpful if you don't have a CCTV system already installed. This will let your video intercom system act as a self-contained CCTV and intercom solution for your property. It'll allow you to cover larger viewing areas, which is great for larger properties like warehouses or even covering your home's front yard and entryway.
Storage Capacity
When choosing a video intercom system, always consider storage capacity. With an audio-only system, you don't have to worry about storage capacity because nothing is saved. Video intercom systems, however, save video recordings and still pictures (depending on your system). All that information needs to go somewhere.
The amount of storage space you need will depend on two things:
How much footage you need to save

Your system setup
Home and business owners choose to save different amounts of footage for different reasons. Businesses might want to save three months' worth of footage for a claim in case something happens. Homeowners might not be as worried about saving footage and might need only a month. The more video you want to save, the more storage you'll need.
Your system setup will also play a role in storage requirements. Some video intercom systems record continuously, much like a CCTV security system. Others might only record when they're triggered by movement. If your system records continuously, you'll obviously need much more storage to handle that amount of video.
Most continuous video systems (including CCTV and video intercom systems) will need about 60 to 240 GB per camera, depending on need and resolution.
Think About Range
One of the great security system debates is between wired vs. wireless systems. If you're choosing a wireless video intercom system, you'll need to consider range. The farther the distance, the weaker the signal will be. If you own a larger property, you'll need to see how far a specific intercom system can reach.
Be aware that any ranges in intercom system specs will be the line-of-sight range, which means without anything between units. Any walls or equipment will decrease the range of the system.
If you can't find a video intercom system with the range you need to fit your property, you might want to look into purchasing a wired intercom system.
Choose the Right Video Intercom System with the Experts at Four Walls Security
With so many features and options available, choosing the right video intercom system for your unique needs can be overwhelming. If you're unsure where to start, consult the experts at Four Walls Security. We have years of experience helping Brisbane area home and business owners identify and install the perfect video intercom systems to secure their properties.
Contact us today for a free, no-obligation consultation on your next video intercom system.