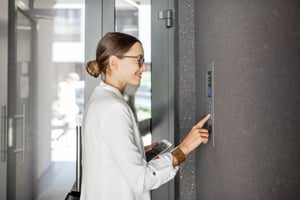 Deciding to install an access control system is only the beginning! To ensure you get the right system to suit your business needs, you'll need to ask yourself a few important questions. Here are the elements you'll need to consider to choose the right access control system for your business.
1. What Are Your Security Needs?
The first thing you need to do is ask yourself what you need the system to do. To choose a system that suits your needs, you need to know what your needs are.
If you're looking for a simple system to keep unathorised people out of your office, then a single keypad might suffice. If you need a more robust system that can track employee time and movements, you'll likely need something a little more comprehensive. Your answer will help to guide you through the rest of the process.
2. What Level of Security Do You Need?
Different access control systems have different levels of security. For example, it's much harder for someone to get past a biometric scanner compared to a keypad. Consider what level of security you need to protect your business. Why would anyone choose a less secure system? For cost-effectiveness and simplicity.
Generally, the more secure an access control system is, the harder and more expensive it is to install and manage. Choosing a system that goes beyond the level of security you need will just cost extra money and frustration.
3. How Many Users Will You Need to Manage?
Consider how many people will need to access your system. Will only one or two managers need access, or will you need individual permissions for your entire workforce?
Some access control systems aren't meant to handle many users. If you only need one or two people to have access, then a simpler system will save you some money while still fulfilling all your needs. If you need a system that can track and manage dozens of users, you'll likely need a more complex system.
4. Will You Need to Integrate with Other Security Systems?
Integrating all your security systems together will maximize your business security. If you already have security systems in place like an alarm system, CCTV cameras, or an intercom, it's a good idea to do some research and choose an access control system that can work with your existing systems. Not only will it give you much tighter security, but it's also much easier to manage one integrated system rather than several individual systems.
5. Do You Have an IT Support Team?
Like any security system, access control systems can be complicated to install and manage. If you choose a robust access control system that can manage dozens of users and entry devices, you'll need some level of technical expertise to manage it. If you don't have an on-site IT team, managing a more complicated system might be a challenge.
To overcome this challenge, many businesses are switching to cloud-based security solutions. With a cloud-based access control system, all the information is stored off-site. To access and manage your data, simply log in from any device. This eliminates the need for on-site server and system maintenance but will add a monthly subscription fee to your security costs.
6. What's Your Budget?
Every business has a budget, and to stay within that budget, you need to understand the costs of installing and managing your access control system. Access control costs can be broken down into three parts:
Hardware – all the physical equipment like the card readers, keypads, cables, and other components. Typically, the more high-tech your equipment, the higher the cost. On-site systems will also require additional hardware like servers and dedicated computers.

Installation – No matter which type of access control system you choose, you should always get professional installation. It's the best way to ensure your system is installed correctly and will work to protect your business. Wired systems will cost a bit more to install compared to wireless systems. The number of devices you'd like to install will also affect the cost.

Maintenance – Once your system is installed, you need to keep it running. Maintenance costs will include things like monthly subscription fees (for cloud services), software licensing fees, battery replacements, etc.
Which Access Control System Is Right for Your Business?
Choosing the right access control system for your business isn't an easy task. With so much to consider, it can easily become overwhelming. Ask yourself these questions, and you'll have a good idea of which direction you'll need to go to give your business the protection it needs.
If you're having trouble deciding on the access control system that's right for your needs, reach out to the experts at Four Walls Security. We have decades of experience helping Brisbane area businesses choose and implement the perfect security solutions, and we'd be happy to help you do the same. Contact us for a free, no-obligation quote and get started on the path to better security today!