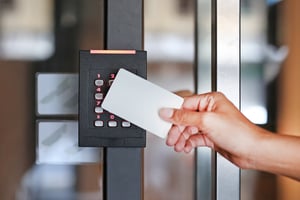 So, you've decided to integrate access control into your business's security. Before you choose a system to install, it's important to note that access control systems come in many shapes and sizes. What works for the business down the street might not be right for your unique security needs. Here are a few things you should consider to help you plan your business access control solution.
1. What Do You Need Your Access Control System to Do?
This question may seem obvious, but it's the most important to ask yourself. What do you need your access control system to do? Your answer will help to guide you through the rest of the decision-making process.
For example, if you're looking for an access control system that can track your employees' time and movements, a simple keypad system might be sufficient. If you really want to tighten security and keep people out of sensitive areas, a card reader or even biometric scanner might be more in line with your needs. Answering this question will help guide you through the features and abilities of different systems so you can choose the perfect one.
2. What Level of Security Do You Need?
If you manage a small retail store, you're not going to need the level of security that a government agency would. In general, the tighter the security, the more expensive and difficult to use the system is going to be. Choosing an access control system that's beyond your security needs is just going to cost you extra money and be frustrating to use. Decide on the level of security that your business requires, and choose an access control system to match.
3. Do You Have Existing Security Systems?
Businesses with existing security systems like CCTV cameras, intercom systems, or an alarm system will want to choose an access control system that can integrate with your current equipment. When all your systems work together, it increases the security of your business greater than the sum of the parts. Plus, it's easier to manage one integrated system rather than several independent systems.
4. Who Will Need Access?
Will only one or two people need to use the access control system, or will your entire workforce? If you have a lot of employees, choosing a system that can handle multiple users will be essential. That'll allow you track individual employees and create a security log of where everyone goes throughout the day. If you only have one or two employees, or if only a few people need access, choosing a more basic system without individual user permissions could be all you need—and it'll save you some money too.
5. What Size Is Your Property?
The size of your property will also have an impact on which access control system you should choose. Wireless access control systems are becoming increasingly popular because of their ease of installation, but since they're wireless, they have a limited range that's best suited for small to mid-sized businesses.
If you have a larger property, you might want to consider a wired system that doesn't have any range limitations. That'll allow the entry devices to communicate efficiently with the control panel, no matter how far apart. But remember, running all those wires is going to increase the cost of installation.
6. Do You Have On-Site IT Support?
Access control systems use a lot of data. From individual user permissions to security logs, you'll need somewhere to store all that information. If you have on-site tech support, it might be easier—and potentially more secure—to have your own servers to store data. But with on-site servers, comes more upkeep that might be more technical than the average person can handle.
More businesses are starting to opt for a cloud-based access control solution. All the data is stored off-site and can be accessed via the cloud. It takes less technical knowhow to maintain but typically adds an extra monthly fee.
7. What Costs Go into Implementing Access Control?
To stay within your budget, it's important to understand the costs of installing an access control system in your business. Here are the most significant factors you'll need to consider:
Hardware – keypads, card readers, and other equipment. The more high-tech the equipment, the more it's going to cost. On-site systems also require servers to store data.
Installation – wired systems are generally more expensive to install. Also consider the number of entry devices you'll need.
Maintenance – including monthly service fees for cloud-based systems, software licensing fees, repairs, battery replacements, etc.
Choosing the Best Business Access Control
There's a lot to consider when it comes to deciding on the perfect access control system to integrate with your business security. Your answers to these questions will help guide the decision-making process so you can plan the perfect access control system to fit all your needs.
If you have any questions about access control, the experts at Four Walls Security are here to help. We have years of experience working with Brisbane area business owners, helping them find the perfect security solutions. Contact us for a free, no obligation quote today!