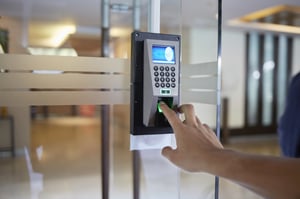 Access control is a major part of business security. In fact, the access control market is expected to reach a whopping $18.4 billion by 2024. With so many businesses utilizing increased security measures to protect their properties and assets, you might be wondering if access control is right for your company. Before you start thinking about making any purchases, you should learn the basics about access control for business.
What Is Access Control?
The big question: what is access control? Basically, it's the process of determining who's allowed to do what within your business. Access control systems are designed to limit entry to certain areas of your business.
If only managers are allowed into areas containing sensitive information or valuable items, an access control system will keep all non-managers out. Your managers will use some sort of identity verification—whether it's a PIN, keycard, or any other method of verification—and once their identity is recognised by the system, the door will unlock. Anyone who doesn't have the proper permission won't be allowed access.
What Can Access Control Do for Businesses?
As mentioned, access control can limit access to sensitive areas of your business like a main office, storeroom, or safe, but there are also other benefits that can help businesses tighten their security efforts.
Prevent Theft
Obviously, the main reason for installing any form of security is to prevent theft and damage to your property. By managing user permissions, you can be sure that only the people you trust have access to the sensitive areas of your business. Unlike keys, access control system credentials aren't easily stolen or copied, increasing the overall security of your business.
Maintain Security Logs
Most access control systems can keep a log of every time someone uses an entry device. Using this information, you'll be able to keep tabs on who is going where within your business. If something does turn up missing, you can check the log to see who was on the premises at the time of the theft, making it easier to find the guilty party.
Security System Integrations
Access controls can be integrated with your existing security systems like CCTV cameras, alarms, and/or intercoms to provide a more thorough, well-rounded security solution for your business. For example, if your access control entry devices are integrated with your current alarm system, an alarm will sound if someone without permission attempts to enter a secure area.
Types of Access Control Systems
In general, there are four types of access control. There are pros and cons for each type, so it's important to consider your unique business needs before deciding which system to install.
Discretionary Access Control (DAC) – each access control point has a list of authorised users. This type offers the most flexibility and ease of use.
Mandatory Access Control (MAC) – users are classified individually and given unique permissions. While it might be harder to maintain, MAC systems offer the highest security.
Role-Based Access Control (RBAC) – users are given permissions based on status or role within the company. RBAC systems are quickly becoming the most popular with business owners for their flexibility without sacrificing security.
Rule-Based Access Control – allows access based on preset rules defined by the system administrator.
Understanding Access Control Entry Devices
Like most security solutions, access control systems come in many shapes and sizes to fit any need. Here are some of the most popular entry devices used by businesses:
Keypad readers – users input a PIN for access.
Mag-stripe readers – users swipe a magnetic keycard to gain entry.
Proximity readers – instead of swiping, users simply touch credentials to the reader.
Biometric readers – relies on fingerprints or facial recognition to validate visitors.
In general, keypad readers are the simplest form of access control, but offer slightly less security since PINs can be shared. Biometric readers are expensive but offer the highest level of security. Card readers, like mag-stripe and proximity readers, fall somewhere in between the two. It's up to you to find the perfect balance between cost, security, and usability to fit your business's unique needs.
Four Walls Security: Your Business Access Control Experts
Deciding to install an access control system for your business can be a daunting task. There are so many aspects and options to consider that it can easily become overwhelming. If you have questions regarding which access control options are right for you, don't hesitate to ask the experts at Four Walls Security. We're here to help you pick out a security solution customised for your business. Contact us for a free, no obligation quote today.