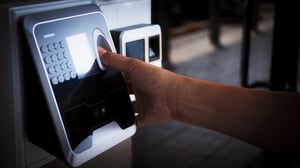 Access control has fast become an inseparable part of business security. The days of the physical lock and key are coming to an end; instead, we're seeing a push towards digital security solutions that are more secure, harder to manipulate, and customisable to each company's unique needs. The market is growing so fast that it's predicted to reach a full $12.1 billion USD by 2024 – a big jump up from $7.5 billion in 2018.
And while there's some debate about what level of access control security is suitable for each business, we'd like to go over the basics and review how these control systems can suit organisations of all kinds.
What Are My Access Control Options?
There are plenty of access control options at your disposal, depending on your security needs and budget. These solutions cover the spectrum from simple single-door systems with a PIN to integrations with video monitoring tools to higher-level security systems such as full-fledged biometric scanning with live face detection:
Basic exterior access control through card readers, swipe cards, PINs, or biometric scanning
Additional video integration through CCTV and other surveillance systems
Intrusion monitoring through motion sensors, duress buttons, and peripherals
Coordination with alarm systems to automate emergency responses
Extendable functionalities that let you link access control systems and control them from a single dashboard
The great thing about these systems is that they're flexible. There's no one size fits all solution; each access control system can be tailored to the business in question.
Which Businesses Need Access Control?
Access control, on some level, is essential for just about every business out there – even if it's applied only to the back office you keep under lock and key. But certain industries stand to benefit more from investing in a dedicated security system that allows access control over more touchpoints.
Commercial office buildings
While a typical office building may not require significant exterior access control systems, larger offices may benefit from keeping certain areas off limits — especially if you have regular walk-in visitors or customers. Set up dedicated access controls to limit movement throughout the facility for both guests and employees. The discretionary and role-based control systems are common choices here, as they provide a good blend of security and administrative adaptability that business security applications need.
Government buildings
Naturally, government offices, military complexes, and other administrative facilities absolutely require the use of access control systems. For these high-value applications, most facilities go with a mandatory access system, as it's the most rigid and secure type of control. In particular, these control systems can be augmented with detailed surveillance tools for monitoring, as well as integration with alarm systems to ensure that all the bases are covered.
Hospitals
Access control for hospitals and healthcare settings isn't just about security – it can truly be a matter of life and death. Hospital environments must be carefully controlled to keep vulnerable patients safe, and setting up dedicated credentials for hospital staff can help ensure that visitors don't wander beyond where they should be. Of course, there's also the matter of storing a substantial number of medications and potentially dangerous materials within the clinic's walls, so taken together, many hospitals opt for substantial access control measures that fit within their budgets.
Universities
Access control is a must for universities and higher learning establishments. With so many people crammed into a small campus area, security relies on understanding who's going where. There are plenty of opportunities for application, here:
Exterior access controls for dorms and residence halls
Internal security for administrative buildings where records are kept
Access options for student laboratories, classrooms, or other facilities
Dedicated security for storage rooms, equipment stations, chemical labs, or custodial offices.
Make Security an Organisational Priority
Access control systems have plenty of applications, but not matter where they're used, they send the same message: This organisation has made a commitment to the safety and security of its members and assets. And in these uncertain times, this type of commitment can go a long way in making people feel secure.
If you're ready to make security a priority, contact Four Walls to learn more about access control solutions for your business.