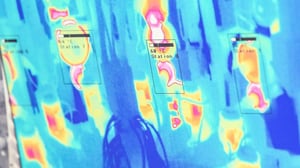 With the novel COVID-19 strain of coronavirus quickly spreading around the world, people everywhere are looking for ways to better protect themselves. The best way to prevent the transmission of any virus is by washing your hands regularly and avoiding contact with infected people. To practice proper sanitation practices, all you need is some good old-fashioned soap and water. Avoiding contact with infected people is a bit trickier.
It's impossible to determine if someone's infected just by looking at them, and it's definitely not recommended going around feeling people's foreheads. With around 111,000 confirmed cases of coronavirus worldwide – 85 in Australia – as of March 9, 2020, it's important to stay protected. Many airports, agencies, and businesses are turning to thermal imaging cameras to determine if someone is at risk for having the virus.
How Thermal Imaging Cameras Work
Thermal imaging cameras are basically high-tech thermometers. They detect the amount of heat an object emits by measuring infrared radiation and assigning colours to the different amounts. Typically, warm colours like red and yellow are used to show warmer regions, while blues and purples are used to depict cooler temperatures. Some thermal cameras use a greyscale image in which warm spots appear bright white, while cooler regions show up as black or grey.
If you're looking at a thermal image of a person, any exposed skin will show up as red or yellow, while clothing will generally show up as blue and purple. Anything giving off heat will appear brighter.
How Do Thermal Imaging Cameras Detect Coronavirus?
Since thermal imaging cameras depict heat levels, they're great at detecting fevers in humans. A person with a fever will show up as a brighter colour compared to someone with a normal body temperature. While it's impossible to officially diagnose someone based on a thermal image, it's a good way to determine who is likely to have coronavirus. In airports, security personnel use thermal cameras to quickly and efficiently scan for passengers who need to be quarantined for further examination.
How to Choose a Thermal Imaging Camera
Just like standard closed-circuit television cameras (CCTV), thermal imaging cameras offer a wide variety of features to suit the needs of any home or business. In addition to the standard security camera options such as field of view, video recording capabilities, Wi-Fi connectivity, etc. There are three features specific to thermal imaging cameras that you'll need to think about before making your decision:
Temperature Range: the minimum and maximum temperatures that a camera can detect. Most thermal imaging cameras will have enough of a range to detect fevers.
Sensitivity: the temperature increments the camera can detect. To detect a fever, a camera needs to have a sensitivity of about 0.1 degrees. That means 37 degrees will appear differently than 37.5 degrees.
Colour Alerts: some thermal imaging cameras feature alerts when a certain colour (temperature) enters the field of view. These cameras are ideal for when you don't want to constantly watch your camera's monitors. Instead, the system will automatically send you an alert – typically via email, text, or push notification – when a set temperature is detected. The alert can be programmed to any temperature you desire, even the temperature of a person with a fever.
Resolution: how clear the picture appears. Thermal pixels are different than standard camera pixels. A top-of-the-line thermal imaging camera might have 640x480 resolution versus the 4k, high-definition resolution you could find in a standard camera system.
Bosch, Hanwha, Hikvision, Mobotix, and AXIS are a few of the most trusted manufacturers of thermal imaging camera systems. If you're just starting your search, or looking for additional options, they offer a wide variety of products and features.
Protect Yourself with Four Walls Security
With new cases of coronavirus popping up around the globe seemingly by the minute, it's important to protect yourself and those around you. While they'll never replace a hearty hand washing at preventing the spread of the virus, a thermal imaging camera can help you identify people who could be infected before they get close enough to do any damage.
If you're interested in installing thermal imaging cameras in your home or place of business or have any questions about the process, contact the security experts at Four Walls. We can help you determine the system that's right for you and make sure that it's installed and functioning properly. Stay protected with Four Walls Security.