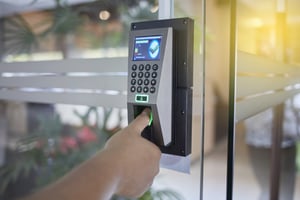 Ideally, comprehensive security systems and extra safety precautions would be a thing of fiction; unfortunately, in reality, break-ins and burglary cost Australian businesses nearly nine billion dollars each year. Although most break-ins do happen at night, which can be handled with security cameras and alarm systems, commercial break-ins during the day are on the rise.
Having an access control system to work in tandem with your existing security components will prevent break-ins, theft, and vandalism from occurring during business hours. Controlling who enters your business not only protects the property but keeps your employees safe.
Since crime can happen anytime, day or night, it's never too early to install an access control system and protect your business and employees from potential harm.
What is an Access Control System?
Gain complete control over the safety and security of your company through access control devices that connect to your existing security system. In addition to controlling who enters your property through specialized ID devices coded for a specific employee, you'll have the added benefits to:
Monitor and audit internal movement

Add protection to restricted areas

Avoid the need to change physical locks

Grant access to multiple business locations
Monitor and Audit Internal Movement
Having control over who enters your property can greatly reduce crime by those not associated with your business, but having the ability to monitor employee location within your company can also help keep your company secure.
Suppose a crime does occur. With access control and ID devices, you'll have reports to help accurately identify any employees, guests, or unauthorised personnel in the area during the crime to pinpoint the culprit and bring them to justice.
Add Protection to Restricted Areas
Lock every door and window with an access control device which would need an ID tag to gain entry. This allows you to control lift access or sensitive areas needed only by a handful of employees rather than the entire company.
Additionally, you can restrict guests to common areas that grant no access to the rest of the company with temporary ID devices. The ID tag is deactivated when the guest leaves, providing extra protection for your business and employees.
No Need to Change Locks
Changing out physical locks every time an employee leaves the company or when keys and ID badges are lost can become tiresome and costly over time. With the easy-to-use software designed for our access control system, you'll quickly be able to lockout ID tags for any employee leaving the company or those who have lost their badge without the need to change locks.
Keys can be easily duplicated at multiple retail locations or by a locksmith, while ID devices are notoriously difficult to copy. If a suspected duplication did happen, quickly deny access to any ID device you felt was suspect to keep your business safe.
Grant Access to Multiple Business Locations
Managing multiple business locations can seem a daunting endeavour, but with an access control system with an easy-to-use unified management system, you'll have total control across your business from one centralised location. Your employees will be able to access multiple business locations and computer systems with one set of credentials.
Suppose an employee were to forget their badge at home or another business location. In that case, you could remotely grant access to the needed locations saving your company both time and money from added travel to retrieve the forgotten ID tag.
It's Never Too Early to Invest in Added Company Protection
When it comes to the safety and security of your employees and business, investing in an access control system from Four Walls Security is the smart choice.
An access control system can be a great addition to any business as a stand-alone security feature. When combined with additional features can become a comprehensive security ecosystem designed to keep your business safe from theft, burglary, and vandalism no matter the time of day.