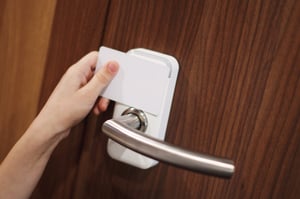 Access control is a welcome addition to any security system. It can help you validate visitors and keep unwanted guests out of secure areas. But like most security integrations, there's no one-size-fits-all solution. Small businesses are going to need different options compared to homeowners or even larger businesses.
The planning process is the same for everyone, but the considerations will vary depending on your unique needs. So, if you're a businessowner looking for some additional security, here are some small business access control considerations for you to think about.
Do You Need a Wired or Wireless System?
There are two primary types of access control systems: wired and wireless. For small businesses, wireless systems will offer the same level of security and functionality as wired systems, but at a fraction of the installation cost.
Wireless systems communicate using secure radio frequencies, so there's no need to run wires throughout your building. The radio signals have trouble communicating over large distances, which is why they're perfect for smaller properties.
Because they're not hardwired into your building's power supply, wireless access control systems require batteries, but for small businesses that don't require many entry devices, that's typically not a major problem.
Which Is Best: On-Site or Cloud Data Storage
Access control systems use a lot of data. They manage user credentials, timestamps, and security logs. All that information is great for tracking employee whereabouts and securing your property, but you need to have somewhere to store it. If you're a small company that doesn't have the IT team, space, or money to install expensive servers, you might want to opt for a cloud-based system.
With a cloud-based system, all your data is stored off-site by a security provider, and you can access it anytime via the cloud. While there are typically monthly maintenance and storage fees associated with cloud-based systems, they don't require you to purchase servers or keep them running. Plus, you can access your system using any connected mobile device for easy management on the go.
Cloud-based access control systems are the preferred choice for small businesses.
Access Control Software Considerations
Most small businesses don't have a team of technical experts to help them set up and manage security software. It's typically the owner or another employee who's asked to pull double duty and maintain the security system in addition to their normal work.
Because of the limited staff, time, and technical expertise that most small businesses have, it's important to pick software that's user friendly with plenty of available support. If you have existing security systems like intercoms, CCTV security cameras, or alarm systems, make sure that your access control software can be integrated with those systems as well. It's easier to manage one cohesive security system than several independent ones.
Don't forget to check the system requirements of an access control system. If it can't run on your existing computers, you'll have to spend more money to upgrade your equipment.
Which Access Control Entry Devices Should You Use?
Entry devices are the parts of your system that do the physical work. They're the keypads, card readers, proximity readers, and/or biometric scanners that allow or deny entry based on the credentials presented.
Choosing the right entry devices depends on your business's unique security needs. If you need a simple access control system to keep people from entering the back door of your retail shop, a keypad or card reader might suffice. If you need a higher level of security, a biometric scanner might be a better option.
It's also important to consider how many people are going to be using your entry device. If it's only one or two employees, a keypad with a single code is an inexpensive and easy-to-manage access control that offers decent protection. If you need to have multiple users with unique credentials, a card reader or proximity reader might be a better choice. But remember, with each unique user comes more information to manage. Think about your business's needs and choose an entry device(s) that'll suit you the best.
Small Business Access Control
For small businesses, an access control system can offer a lot of protection at minimal cost. You'll be able to secure sensitive areas and validate visitors throughout your property. In general, small business owners can benefit most from wireless, cloud-based systems with easy-to-use software, but there's not a single solution that will fit every need. Be sure to do the proper research and find the system that's right for your business.
If you need help with small business security, Four Walls Security is here to help. Our experts have years of experience working with Brisbane area businessowners and can provide all the answers and support you need. Contact us for a free, no obligation quote and be on your way to a more secure future for your business.