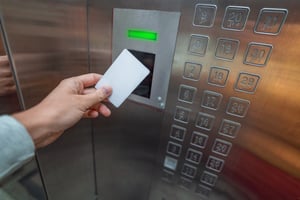 Most businesses use access control to restrict access through exterior doors, but there's another method that people use to access your building: the elevator. If you have a multi-story building, chances are that most visitors are going to use the elevator to get to their desired floor. What if you have entire levels that need to be restricted to only authorised visitors?
Access control systems can operate on more than just doors; they can work on your elevators as well. Here are some things you need to know about integrating your elevator into your access control plan.
What Is Elevator Access Control?
The basics of elevator access control are the same as any other access control system: restrict access to certain parts of your building. Authorised users verify their identities using PINs, keycards, fobs, or biometrics. When a proper credential is used, the system unlocks the door.
In an elevator, instead of unlocking a door, it carries you to the requested level. If the fourth floor of your building is off-limits to visitors and someone without the proper credentials presses the four button, the elevator simply won't move. Only after using the correct credentials and verifying that they're allowed to go to a certain floor will the elevator move.
How Does It Work?
Elevator access control systems are a bit more in-depth than systems attached to door locks. They need to be hardwired into your elevator's panel so the entry device and the elevator can communicate. Depending on the elevator access control system you choose, it might require the installation of traveling cables in the elevator shaft, which can be pricey.
What Are the Benefits?
Elevator access control can be beneficial in several ways. If you manage a large office building with multiple companies renting space, an access control system on the elevator can ensure that employees can only access their own workspaces and not wander around the other floors. It'll make your tenants feel more secure.
Some privately owned buildings have floors that need tighter security like the executive offices or the safe. With an elevator access control system, you can make sure that only authorised employees have access to those floors.
Types of Elevator Access Control
Most of the entry devices that work on doors can also be installed in your elevator—albeit with a bit more wiring involved. Some of the most popular types of elevator access control include:
PIN pads

Card readers

Proximity readers

Biometric scanners
There are also some elevator-specific methods of access control you can use that don't require the installation of traveling cables:
Key switches – instead of a button to choose a floor, there's a key slot. Only users with a key can access those floors.

Push button PIN –works like a standard PIN pad, but instead of being a separate piece of equipment, you can use the existing elevator buttons. For example, if you want to get to the restricted fourth floor, you could enter the PIN by pressing the corresponding floor numbers before pressing four. This security measure is included in some elevators. It just needs to be activated.
In general, key switches and push button PINs are going to be the lease expensive method of elevator access control, but they won't offer the same level of protection as a card reader or proximity reader. It's up to you to choose the solution that works best for your unique needs.
Access Control from Four Walls Security
Your elevator probably sees as much action as your front door, so it should have the same level of protection. If you have a large office building with multiple commercial tenants or if you have specific floors with sensitive information, elevator access control is a great way to restrict access to certain areas of your building.
Not all elevators are alike, so when choosing a security solution, check to make sure that your specific elevator system has the capabilities you need. For more detailed information about whether an elevator access control system is right for your building, consult the experts at Four Walls Security. With our free, no obligation consultations, you can learn about the exact solutions available for your business and the costs involved. Contact us to get started today!
TITLE IDEAS:
What You Need to Know About Elevator Access Control

Is Elevator Access Control Right for You?

What to Consider When Choosing an Elevator Access Control System

What Is Elevator Access Control?

Protect Your Building with Elevator Access Control