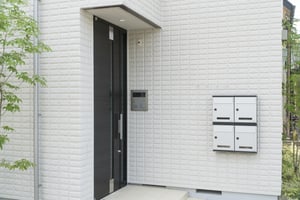 Before investing in a new security system for your unit complex, you want to make sure it's going to be worth the money. It might not be entirely obvious that a unit complex intercom system could benefit your building, but it offers several benefits to both the security and convenience of your staff and residents. Here are four reasons why your unit complex needs an intercom system.
1. Increase Building Security
The most important benefit a unit complex intercom system can bring is added security to both residents and staff. You don't want just anyone coming into your building. With an intercom system, staff and residents can personally validate visitors before opening the main entrance—adding another level of access control.
When a visitor approaches the building, they'll need to use the intercom to speak to someone inside to unlock the main door. If the resident or front desk operator doesn't know the visitor or trust their intentions, they can simply leave the door locked.
This added level of protection gives staff and residents peace of mind knowing that anyone who visits the building is vetted and authorised to be there.
2. Simplify Communication
With a unit complex intercom system, visitors won't have to call residents or the front desk to be let into the building. They can simply use the intercom to speak to whoever they want.
Multi-unit intercom systems have a directory at the front entrance. Visitors can use the directory to find the tenant they want to talk to. All they have to do is push the corresponding intercom button, and they're instantly connected to the resident. There's no easier way to communicate with visitors at the front door.
Since the communication is so simple and direct, property managers don't need to hire as much staff to constantly watch the front desk. The residents can speak to visitors and allow access themselves, letting you and your team work on other projects around the property.
3. Easy Package Deliveries
Package deliveries are always a pain point with property managers—especially with the ever-growing popularity of online ordering. A unit complex intercom system makes it easy to let in deliveries without ever leaving the front desk.
Many unit complex intercom systems can also be integrated with delivery-specific solutions like package lockers or storage rooms. Whenever there's a delivery, the courier can drop the package off in a locked room until the recipient can pick it up. Not only does it limit courier access to the building, but it also keeps resident packages safe from theft!
4. Added Convenience for Staff and Residents
In the end, a unit complex intercom system just make life easier for everyone. Your staff no longer need to stick around the front door in case a visitor shows up, and your residents don't have to leave their apartment to let visitors in. Some unit complex intercom systems even allow communication between units, so residents can quickly and easily talk to other people throughout the building.
With the added security and convenience an intercom system can bring to your building, it'll bring a more positive experience to your renters, which means they'll be more likely to continue renting year after year.
Find the Right Unit Complex Intercom System
Intercom systems aren't just an easy way to communicate with visitors. They're an essential part of your building's security. They can help residents and staff validate visitors, simplify deliveries, and add a new level of convenience for everyone living and working in the building. There's no doubt that an intercom system can benefit any unit complex.
If you're ready to reap the benefits of a unit complex intercom system, work with the experts at Four Walls Security. We have decades of experience working with Brisbane and Sydney-area property managers, helping them simplify their workloads and increase property security. Contact us today to find the perfect intercom system to suit your property needs.