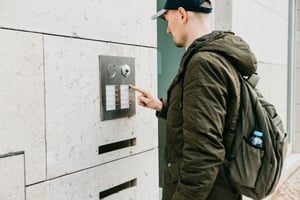 We've mentioned this before, but Australia's Queensland city Townsville recently became one of the world's hot spots for crime with some 3,005 unlawful entry offenses. Let's face it, crime is on the rise everywhere. Maybe you've even been the recipient of such an offense. If so, it's most likely time to start thinking of a new intercom system to prevent repeat offenses.
What Is an Intercom System?
It's a fact, security systems are one of the oldest, simplest, and most effective prevention measures you can install in your home or business. Also a fact, alarm systems are considered to be the second most effective crime deterrent behind having a dog. Bottom line? It has become vitally important to not only protect employees and customers, but also your business property.
If you've even looked at intercom security systems you already know there are a wide variety of features available within them. However, systems with video capabilities are quickly taking over the market. Many businesses are using video intercom systems in their day to day lives. After all, there is an element of added security when you're able to see a visitor's face before allowing them entry into your building.
In addition, a video intercom system can also allow you to see inside your business. Let's face it, not all crimes are committed by 'outsiders.' Being able to take a quick look around your retail space, storage area or private offices is a big benefit.
What Kind Should I Get?
Regardless of whether you decide on a video or simple intercom system, you're going to want to consider a few things before deciding on a system in general. There are basically four types of intercom systems out there.
Hard-Wired: This system is connected with physical wires, usually installed during the building phase. It offers more security, clarity and reliability, but can be costly to install in a pre-existing building.

Wireless: This system is relatively low cost and easy to use. They do rely on radio frequencies so range can sometimes prove to be an issue.

Carrier-Current: This system utilizes the existing electrical system in your building. AC power. They are cheaper to install than hard-wired, but offer less clarity and can experience interference.

Automatic Gate Entry: This system has the added benefit of being able to lock and unlock gates and doors within your building remotely. Most of these system also have cameras at these points.

Mobile
What are Some Good Features to Look For?
Obviously an intercom system will offer you the ability to talk to people around your business in other rooms or areas, however, there are some other features you may want to look for in a system: Here are some of the most popular intercom system features:
Video calling: This feature allows someone at your door to 'call' in. You're able to see them before allowing them entry.

Internet connectivity: This allows your system units to connect via your wi-fi. It also connects via virtual assistants like Alexa.

Remote access: This feature establishes a link with your smartphone allowing you to show a presence even if you're not there.

Group calling: With group calling, press a button and you're connected to all the units within your business at the same time.

Noise cancellation: A great feature when a unit is in a noisy warehouse.
How Much Does an Intercom System Cost?
Because there is such a wide variety of systems out there, it's pretty impossible to say exactly how much one costs. However, the cost will depend on three things:
Equipment – The cost of the physical equipment like the intercom speakers themselves. Obviously, more bells and whistles mean more money.



Installation – Hiring a professional to install your intercom system is always the best way to go. It may sound more cost effective to install one yourself, but it's really not. Also, as we mentioned above, wired systems need to be hardwired into your property, which requires more work, hence money.



Maintenance – There will also be a cost to keep your system up and running. Some intercom systems come with a monthly subscription fee for cloud, monitoring, or connectivity services.
Are You Ready?
If you're looking to increase the security of business and thereby prevent repeat offenses, installing an intercom system is a great way to go about it. As we've mentioned, there are a variety of different types of intercom systems on the market, each with hundreds of features to choose from. If you have any questions regarding which system is right for your home or business, contact the experts at Four Walls Security.