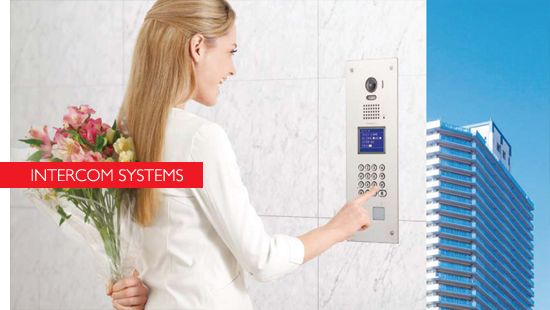 If you're searching for a better way to access control and monitor the security of your business or home, installing an intercom system might be the perfect solution. But before you go and purchase the first, cheap option you find on the internet, just know that not all intercom systems are created equal. When selecting the perfect intercom system, there are four basic types to choose from. When selecting the perfect intercom system, there are four basic types to choose from.
Hard-Wired
Before the invention of the wireless technology that we all love so much, everything had to be hard-wired. That means that every speaker and station is connected with real, physical wires. While that may sound strange in today's anti-wire world, hard-wired systems are still relatively common in homes and businesses.
Typically, hard-wired intercom systems are installed during construction of the building. The wires need to be run inside of the walls, just like electrical lines. Installing a hard-wired system in a preexisting building can be costly and time consuming.
Although it's a bit more expensive, a hard-wired system offers unparalleled clarity, security and reliability. Unlike in a wireless system, there are no networks that could potentially crash or be hacked, and since everything is wired together, the signal isn't susceptible to interference.
Wireless
Despite the reliability and clarity of a hard-wired system, wireless intercom systems have largely dominated the market in recent years due to their low cost and ease of use. Instead of having a crew come to your business or home and knock down walls to install wires, just open the box, charge the batteries and it's ready to use.
Wireless intercom systems rely on radio frequencies to communicate. Most modern solutions connect to the internet either through Wi-Fi or data connection like 3G, while some work as two-way radios.
The main issue that plagues wireless systems is distance. Wi-Fi signal and radio frequencies have a limited range. If your front door is too far away from your home's router, the signal might not be strong enough for the intercom system to work effectively. Systems that rely on radio frequencies can sometimes have interference, like hearing other people on a walkie talkie. Wireless systems are also the least secure, as they're the easiest to hack.
Carrier-Current
Carrier-current intercom systems work with the existing electrical systems in the building. They use AC power to produce medium-frequency AM signals to communicate between hubs. Carrier-current systems are cheaper to install than hard-wired systems but offer less clarity. This antiquated type of intercom system is also susceptible to interference.
Automatic Gate Entry
Automatic gate entry intercom systems are very similar to other systems, except with a few more options. In addition to audio, automatic gate entry systems have the ability to lock and unlock gates and doors remotely. Most modern systems also have cameras so you can see who's on the other end. These are typically hard-wired systems because of the distance required to reach from the house to the front gate. Smaller automatic gate entry intercom systems that attach to your front door can be operated wirelessly if they're in range of your home's Wi-Fi signal.
Mobile Connection
Most modern intercom systems, whether hard-wired or wireless, offer the ability to connect to your mobile phone through an app, so you can always see and talk to people at your business or home no matter where you are. As long as you have a mobile connection, you can use your intercom system. Some intercom systems, like the Aiphone JO, offer the best of both words. You can have a secure, reliable, hard-wired system with all the convenience of a mobile app!
Every business and home is unique. It's important to pick the right intercom system that works for your specific needs. If you're ready to discuss the benefits of adding an intercom system to your operation, contact the experts at Four Walls Security for a consultation today.