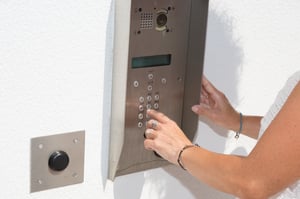 Boosting your property security is important, but it's also important not to break your budget. Installing a new unit complex intercom system will offer more convenience and safety to both your residents and staff, but you want to make sure it's worth the cost.
To help you choose the system that's right for your building and wallet, here are four factors that affect the hardware and installation cost of your new unit complex intercom system.
1. Wired vs. Wireless Unit Complex Intercom Systems
When it comes to hardware cost, it's easy to think that the most expensive parts will be the units themselves. Many property owners don't realize that wires will actually have a greater impact on the cost of both the parts and, especially, labor.
When choosing among wired versus wireless unit complex intercom systems, the choice essentially comes down to reliability or price. Simply put, wired intercom systems are more reliable, but they're also more expensive.
Wireless system installation is simple. Not only do you avoid the cost of the wires themselves, but you don't have to run the wires through the building. That means no drilling, climbing, or pulling. All that saved effort means you can save money on installation costs.
With a wired intercom system, you'll need to run potentially hundreds of metres of wire throughout your building to link the units together. This can get even more expensive if you choose a multi-tenant intercom setup (which we'll get to later).
2. Number of Entrances
Unit complex intercom systems are all about validating visitors before you let them into your building, but how many ways can a visitor enter your building? If you have more than one entrance—which most apartment complexes do—you'll probably want to install an intercom unit on each one.
As you might have guessed, the more units you want to install, the higher the hardware and installation cost. Some unit complex intercom systems have secondary entrance intercom units that are a bit cheaper than the units you'd put on the main entrance. This could help you cut some of the hardware costs while still covering all your secondary entrances.
3. Front Desk Intercom vs. Multi-Tenant
Exterior intercom units aren't the only ones you'll need to install. The visitors outside will need to talk to someone inside to gain entry. Just like the number of entrances will affect your hardware and installation costs, so will the number of interior units.
Multi-tenant unit complex intercom systems are the preferred type of intercom used in apartment buildings. In a multi-tenant setup, each individual apartment gets its own intercom system. While this will drastically increase security and convenience for everyone, it's also a lot of hardware to install. If you have 50 units in your building, that's 50 interior intercoms and all the wires (if you choose a wired system) that go with them. Naturally, that will also drastically increase your hardware and installation costs.
Alternatively, you could choose a front-desk-only intercom system. When visitors approach the building and use the intercom system, they're connected to a front desk attendant who can verify their identity and choose whether to let them in or not. This setup requires only one internal intercom unit, which will save you money on hardware and installation costs. Just be aware that a front-desk-only intercom system will require a full-time attendant to be there when visitors arrive.
4. Installer Experience
In the end, the factor that will impact your hardware and installation costs the most is your installer's level of experience. Choosing an inexperienced intercom installer will end up costing more money on just about every aspect of the project.
By choosing an experienced installer, they can help you cut costs in a variety of ways:
Recommend ways to reduce unnecessary costs

Prevent damage to your property

Faster installation timelines

Avoid unnecessary future repairs from shoddy work
Not only will an experienced installer reduce installation costs, but they can also help you better plan your budget with more accurate estimates up front.
There are many unit complex intercom systems, so be sure to talk to an experienced installer like Four Walls Security before you make a choice. We've worked with Brisbane and Sydney-area property owners for over two decades, helping them choose and install the ideal intercom solutions for their unique needs. Contact us today, and let us help you boost your property security.