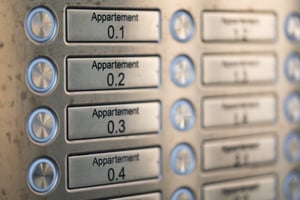 Professional property management professionals know apartment buildings need unit complex intercom systems, but which ones are the best fit? With so many options available, you want to make sure you pick one with the features your building managers and residents need.
To help you make the right decision, here are the most important things to consider before installing a new unit complex intercom system.
Wired vs. Wireless
Unit complex intercom systems come in two main categories wired and wireless systems. There are pros and cons to each, so it depends on what you want to get out of your system:
Wireless – Intercoms are connected wirelessly either via cellular signals or the internet. They're cheaper to install and upgrade but aren't as reliable as wired systems.

Wired – Intercoms are hardwired into the building and physically connected with wires. They have a much higher cost of installation but are much more reliable.
Basically, the choice comes down to reliability versus cost. Wired systems are much more reliable (especially in buildings with a lot of steel, concrete, and copper that could interfere with wireless signals), but they're expensive to install or upgrade.
Do You Need Video Capabilities?
Video isn't right for every application, but you should decide if you need it before installing unit complex intercom systems, rather than upgrade later. It all depends on how important visitor validation is to you and your residents.
Naturally, video intercom systems give you another level of access control by being able to see visitors' faces instead of just hearing their voice. They're especially helpful if you don't already have a CCTV security system.
Does It Have a Mobile App?
Everyone wants mobile connectivity these days. For the best resident experience, find a unit complex intercom system with mobile app integration. That way, users can talk to visitors and even open the door from wherever they are. It's especially helpful for apartment sitting or deliveries while residents are away.
Is It Cloud-Based?
Cloud-based unit complex intercom systems are great for property managers. Since all the information is stored in the cloud, managers can access the data from anywhere and make changes quickly and easily from any authorised device:
Update resident directories

Change user permissions

Offer remote unit tours

Track security logs
By choosing a cloud-based intercom system, you and your managers won't have to stay cooped up in the office. You can manage the system from anywhere with an internet connection.
Can It Integrate with Your Existing Systems?
Managing multiple security systems can be time-consuming. To simplify property management, choose unit complex intercom systems that can integrate with your existing systems. Then, you won't have to spend time managing multiple databases. You'll only have to maintain a single, all-in-one security solution for your entire property.
Does It Ring the Front Desk or Individual Residents?
When a visitor presses the intercom button at the main entrance, where does it go? It can go to the front desk/leasing office, or it can ring the individual tenants.
For the most part, multi-tenant unit complex intercom systems (that ring the individual tenants) are preferred. It gives the residents more control over who's allowed into the building and means you won't have to hire someone to constantly manage the front desk—or handle intercom calls yourself.
Can It Manage Multiple Entrances?
If you have more than one entrance, it's important to find unit complex intercom systems that works on multiple entrances.
For example, deliveries might come in through a different entrance than apartment visitors. If a delivery person rings through the intercom, it's helpful to be able to choose to open the rear entrance instead of the main front entrance from a single intercom system.
Make the Right Decision with Four Walls Security
With so many features to choose from, it's not always easy to pick out the right unit complex intercom systems to fit your unique needs. If you need help sifting through the options, trust the experts at Four Walls Security.
Four Walls Security has decades of experience helping Brisbane and Sydney-area property owners identify and implement security solutions designed specifically for their buildings. Our experts will listen to your needs and help you make the right decision to support your managers and residents for years to come. Contact us today to find the right unit complex intercom systems for your property.