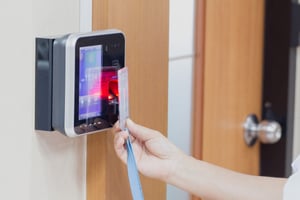 COVID-19 has completely changed the world and has made it increasingly important to keep yourself and your employees protected from pathogens. The best way to prevent the spread of the virus is to distance yourself, which can be done with social distancing, and to not interact with items that other people have touched, which is a bit more difficult.
Doorknobs and latches are especially dangerous. Some are touched hundreds of times per day and likely aren't disinfected frequently enough. To make matters worse, there's really no way to avoid them; you have to enter and exit the building! Touchless access control measures are an effective way to prevent the spread of pathogens that can potentially live on surfaces for days at a time.
What Is Touchless Access Control?
Like the name suggests, touchless access control is any system that can validate visitors and allow or deny access without physical interaction. They allow visitors to move through a building without the risk of spreading viruses or bacteria through touch.
Touchless Access Control Systems
Two of the most effective methods of touchless access control are proximity readers and touchless exit buttons. Of course, even with a touchless system like a proximity reader, visitors are still going to have to physically open the door. Pair a touchless access control system with a door opener and your visitors will never have to touch a dirty doorknob or latch again.
Proximity Readers
Proximity readers are installed on entryways and can allow or deny access to visitors. Unlike keypads and biometric scanners, which require physical touching, these entry devices can read keycards or even smartphones — via NFC or Bluetooth — to validate visitors from a distance. Simply pull out your keycard or phone and hold it near (not touching) the sensor. The sensor will read your credentials and allow access to the building or room.
Touchless Exit Buttons
People who enter your building must also leave at some point. When thinking about touchless access control, it's easy to forget that there's just as much physical interaction with doors when leaving a building as there is to get in.
Touchless exit buttons work similarly to touchless hand dryers in most restrooms. Simply wave your hand over the sensor and the door unlocks, allowing you to exit. It completely removes the necessity to touch a dirty doorknob or latch. Touchless exit buttons are easy to install and can be used on both interior and exterior doors.
Door Opener Systems
Even if you have a proximity reader, visitors are still going to have to physically open the door once they're granted access. A door opener system is a type of access control that opens and closes doors mechanically, without interaction. Visitors simply wave their credentials in front of the proximity sensor — or their hand for touchless exit buttons — and the door will automatically open, allowing them to enter or exit without physically touching anything.
Door opener systems can be installed on almost any entryway and integrated with most access control systems for a user-friendly, secure, and safe method of entry.
Touchless Access Control from Four Walls Security
Studies suggest that COVID-19 can live on surfaces from a few hours up to several days. A touchless access control system could help keep you, your family, and your employees safe by limiting their exposure to the virus. By pairing touchless systems like proximity sensors and/or touchless exit buttons with a door opener system, visitors will have no reason to physically interact with anything to enter or exit the building.
If you're searching for ways to better protect those close to you from being exposed to coronavirus, contact the experts at Four Walls Security. We can help you choose a touchless access control system that's right for you, install it in your home or business, and ensure proper operation. For any questions regarding home or business security or access control, contact us for a free, no obligation quote today.