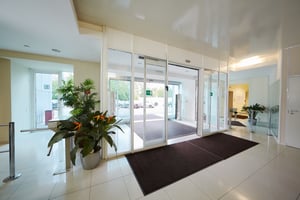 Just because a visitor has been granted access to your facility doesn't mean that your access control system is finished working. Installing a door opener system can add another level of convenience, safety, and security to your property.
What Is a Door Opener System?
Door opener systems are a common sight in public buildings like stores, airports, and retailers. They're the fancy doors that open automatically when you approach them. They can be installed on any type of entry including standard swing doors, sliding doors, garage doors, and exterior gates.
They aren't required to use motion detectors like you find at the grocery store. They can be programmed to work with most other access control entry devices such as PIN pads, intercoms, keycards, or even biometric scanners. Once a visitor has been validated and granted access, the door automatically opens.
Benefits of a Door Opener System
While it might seem like a door that automatically opens might actually hinder your security efforts, it's quite the opposite. The door doesn't just automatically open, it also automatically closes. Door opener systems can decrease the chances of "tailgating", and you won't have to worry about people forgetting to close the door after themselves.
With COVID-19 spreading more and more every day, a door opener system will offer a touchless way for visitors to gain entry to your building. Without having to use doorknobs or push bars, you can help to decrease the risk of spreading the virus throughout your home or place of work.
Types of Door Opener Systems
Door opener systems can be installed on just about any entryway and integrated with most access control systems. Many systems can also be programmed based on specific rules. If your business is closed for an extended period of time, you can set your door opener system not to open for any reason while you're away. Going on vacation? Program your garage door opener to ignore all opener signals until you get back.
Interior/Exterior Door
Door opener systems can be installed on just about any door in your building; they're not just for the automatic sliding glass doors at your local grocery store. Opener systems for standard swing doors look like a small metal box attached to the top of the door with a powered arm that opens and closes the door. They can be directly wired into your building's power supply or operated using a battery.
Garage Door
Garage doors are probably the most popular entryway to have a door opener system because they're generally the hardest to open. A garage opener system makes opening even the largest garage doors as simple as pressing a button, swiping a keycard, or punching in a PIN. They can also be integrated into your existing access control systems to be operated remotely.
Exterior Gate
Nobody wants to physically open and close a gate whenever a visitor arrives. By adding a door opener system to the front gate of your home or business, you can allow visitors — or not — without ever having to step outside. And, just like the garage door, you won't have to struggle with heavy gates and locks. Simply press a button and the gate opens, closing securely behind your visitors after they're through.
Door Opener Systems from Four Walls Security
If you're looking to make your home or business more secure, a door opener system could offer you greater access control over your property. It will make your facility more convenient to visitors and ensure that all your entryways are always closed and locked after each use. Plus, without having to use physical opening methods like doorknobs, you can help hinder the spread of viruses and bacteria.
Door opener systems aren't right for every property. If you're thinking about installing a new access control system into your home or business, contact the experts at Four Walls Security. We will be happy to answer any questions and help walk you through the process of selecting the perfect system and equipment to suit your unique needs. Contact us for a free, no obligation quote today.