Tailgating is a common problem for 24-hour gyms, with implications for security, safety and – most notably – income. Thankfully, with a gym tailgate system you can prevent being ripped off as sneaky individuals attempt to, well, get ripped. Read on to discover everything you need to know about preventing tailgating on your premises.
What is tailgating?
Tailgating is a common security breach that occurs at gyms, particularly those open 24 hours. In security terms, it refers to an unauthorised person entering a secured premise by closely tailing an authorised individual. In other words, gym tailgating occurs when more than one member goes through the turnstile on a single pass.
Why is gym tailgating a problem?
Tailgating presents a number of problems – for the gym owners or management, staff on duty, and gym members using the facilities at the time. These include:
Loss of income – According to Four Walls Security Director, Kevin Cameron, "Tailgating can represent a big source of income loss, particularly for 24-hour gyms. It happens when members bring friends in to do a workout when they know there will be no staff on-site.
"This can occur during the day as well – a non-member will sneak in behind a member when no staff are watching. This could be a coordinated effort, but sometimes it occurs without the member's knowledge. However, tailgating is a much more significant problem for unmanned 24-hour gyms, and can have an impact on your business's bottom line."
Personal security and identification – If tailgating occurs and there is an assault or theft at the gym, there is no way to identify all people on the premises. (As the tailgater's details will not have been entered into the system.) This can make it more difficult to find the perpetrator.
Safety – All gyms will run a thorough induction session, where new members are briefed on safe use of equipment and emergency procedures. There may be severe consequences from an individual working out without knowing these procedures.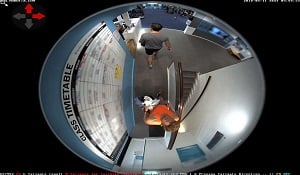 How our automated gym tailgating system can help
At Four Walls Security, we are confident we have developed the smartest tailgating detection and prevention system for 24-hour gyms. With a variety of tools at our disposal, our tailgating solutions can be installed as part of our 24-hour automation and security system, when you covert your gym to 24/7, or even retrofitted to existing sites.
Our popular automated gym tailgating system works as follows:
The system continuously monitors the access control door after staffed hours. We use camera systems with a tailgating security feature, known as piggy backing security, which will alert you if a member lets in a non-member with their access card.
If a tailgating incident is detected, the camera covering the access control door takes photos and emails them to the gym's email account. In the morning, your staff will open up their emails to see the tailgating event, captured on camera.
The member details (of the client who let in the non-authorised individual/s) are supplied, so management can contact the culprit to discuss the matter. The tailgating images are sharp and clear for use as evidence if required.
Preventing gym tailgating with Four Walls
Our customised gym tailgating systems can be stand alone or combine myriad functions, from security, access control, anti-tailgating event triggering and duress alarms, to motion detection for lighting in the entire building, and air conditioning control in some zones.
Further customisations can also be implemented to trigger alarms for unwanted behaviour, such as entering unauthorised areas, with breaches setting off a siren and alerting the control room. With our tailgating solution you can always be assured "You are protected by Four Walls."
To find out how we can help prevent tailgating at your 24-hour gym, contact Four Walls Security today on 1300 367 233.