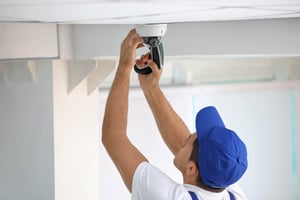 You wouldn't trust a car that has never gotten an oil change, so why would you trust a CCTV security system that has never been serviced? Closed circuit television (CCTV) security cameras are an effective method of security used in both residential and commercial applications, but unfortunately, not many systems get the care and attention they need to perform their important job properly. If you think you need CCTV service for repair or your security system is due for a checkup, here are some of the most frequently asked questions about CCTV service.
How Often Should CCTV Security Systems Be Serviced?
How often you need CCTV service for repair will depend on the location of your cameras. If you use only indoor cameras placed in secure spots, they might not need as much attention as outdoor cameras in a public place.
In general, it's suggested that you personally look over your CCTV system at least once per month — or more frequently if your cameras are in a high-risk location — and get a professional service annually.
What Happens During a CCTV Service?
During a professional service, a trained technician will closely inspect every aspect of your CCTV security system:
Camera hardware – ensure that everything is intact and in good repair
Lens focus – check that all cameras are clean and in focus for optimal picture quality
Field of view – make sure cameras are pointing in the proper directions and can see all high-risk areas
Wiring and cables – no loose connections or fraying wires
Monitors and recording equipment – ensure everything is working and recording properly
System communication – check that all cameras, monitors, recording equipment, and any other integrated systems can communicate with each other
The technician will be able to repair any issues, or potential issues, discovered during the inspection to keep your security system running and your property safe.
What Are the Most Common CCTV System Repairs?
In our years of experience, we've seen just about everything that can go wrong with a CCTV security system. Here are some of the most common issues that we find.
No Live Feed
This issue can be hard to notice, as many users don't even realise that their CCTV cameras are supposed to display live feed. If there's faulty wiring in the system or an inadequate power supply, your system might revert to a non-real-time image.
Poor Image Quality
Poor image quality can be caused by many things, and often it's not even the camera's fault. Lighting conditions, lens focus, camera cleanliness, and improper settings are the most common issues that can hinder image quality, even if the cameras themselves are in perfect working condition.
Finding a potential suspect based on a blurry image is nearly impossible, so it's important to make sure your cameras can see everything clearly.
Mechanical Issues
Pan-tilt-zoom (PTZ) and dome cameras have internal motors that allow them to swivel and change their field of view to scan larger areas. Over time, these motors can burn out or become slower, resulting in blind spots.
Faulty Recorders and Hard Drives
What good is a CCTV security system that can't record? Software errors, memory corruption, and connectivity issues are common problems that plague CCTV systems. Catching these issues early can help protect you from major lapses in security.
What Is the Average Cost of a CCTV Service?
The cost of a CCTV service will vary depending on the size of your system and the integrated equipment. Service on a small residential system with only a few cameras will be much cheaper than a major commercial system with dozens of cameras integrated with other security systems.
If your CCTV system is due for a professional service, contact the experts at Four Walls Security for a free, no obligation quote.
What Can You Do to Maintain Your CCTV Security System at Home?
While it might not be as in depth as a professional service, there are a few things that you can do yourself to maintain your CCTV security system.
Clean camera lenses using a microfibre cloth

Make sure cameras are securely attached and pointing in the right direction

Check if motion detectors are working (if installed)

Trim foliage that could interfere with your cameras' fields of view

Use the controller to check camera functions like zoom, tilt, and pan

Inspect any exposed wiring for frays or breaks

Make sure all wires are connected to cameras and the main control panel

Check that all monitors are showing a clear picture

Check time and date stamp on the recorder and make sure it's accurate
It's suggested that you personally inspect your CCTV security system at least once per month.
CCTV Service Repair from Four Walls Security
If you have any further questions regarding the service and maintenance of your CCTV security system, contact the experts at Four Walls Security. We have years of experience working with Brisbane area homes and businesses and can make sure that your system is functioning properly and that your property is secure. Contact us today for a free, no obligation quote on all your security system repair or service needs.