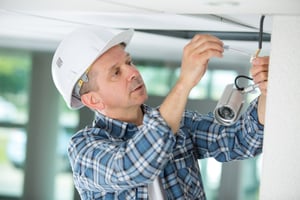 Before you any project, you should know what you need to get the job done. Not only will it make the process go smoothly, but it'll also save you a few trips to the hardware store. It's true for home repairs, craft projects, and even CCTV installation. Here's what you need to boost your home or business security by installing CCTV cameras.
A Plan
How do you know the parts you'll need without a plan? Creating a detailed CCTV installation plan is the first step to getting your security cameras up and running. Think about your security goals, the locations you want to cover, and the equipment you'll need to get the job done.
Your plan will become your grocery list when shopping for equipment. It'll tell you the number of cameras, the amount of wire, which recording equipment and software, the data storage requirements, and which viewing devices you'll need. If you make your plan correctly, you should only need to order once to get all the software and hardware you need to install your cameras.
Cameras
What's a CCTV system without cameras? Ineffective. Cameras are the eyes—and sometimes ears—of your entire security system. Without them, you won't be monitoring much of anything.
The first step to camera installation is to choose which cameras are right for you. Do you need a high-tech camera with pan-tilt-zoom (PTZ) features, or will a simple desktop IP camera fulfill your needs? Think about your plan and your security goals. Choose a camera(s) with the specifications and mounting requirements you need.
Once you've chosen the perfect camera, you need to decide how many you'll need and their mounting position. Consult your plan to get the right number of cameras to cover your property.
Wires
CCTV cameras need two wires to function: a power supply and a network connector. Cameras are electronic; therefore, they need power. To avoid dead batteries (which can be a security concern), most CCTV cameras are hardwired into the building's power supply. That means you need to have enough wire to reach an interior outlet.
Cameras also need to be connected to your network to send video feeds. IP cameras need a wire to reach to the nearest network connection, typically using an ethernet cable. Other cameras need to be wired directly into the recording equipment.
Map out your wiring routes ahead of time to ensure you have enough wire to power up every camera and connect them to the system network.
Recording Equipment
Your cameras need to send video somewhere. Recording equipment can take two forms. You can have an on-site network video recorder (NVR), like a DVR, or an off-site video recorder that uses the internet to send your data to an external storage facility, typically accessed through the cloud.
On-site recording equipment requires additional hardware and software. Off-site, cloud-based solutions only require software downloaded to the device of your choice. No matter which option you choose, you'll need to it set up before CCTV installation can be complete.
Data Storage
As your smartphone can attest, videos take up a lot of storage space. And, since CCTV cameras are always recording, they need somewhere to store all their footage. The three most common data storage locations are:
In the cloud

On your on-site network video recorder

On an SD card in the camera
Whichever method you choose, make sure you have enough storage space to maintain at least a couple weeks of data. Around 60 GB of storage space per camera is usually enough to maintain about two weeks of standard-definition footage. High-resolution cameras will require more storage space.
Viewing Device(s)
Whether it's a computer monitor, TV, tablet, or smartphone, you need a device to view your footage. What good is all that video if you can't watch it!?
Do some research and see which devices are compatible with your specific system before CCTV installation. If you install a system that doesn't work with the monitor you just bought, you'll need to go shopping again. Some systems can work with multiple monitors, so create the setup that's ideal for your needs.
A Professional CCTV Installation Service
It might be tempting to attempt CCTV installation on your own, but it can be a difficult task. The last piece of the CCTV installation process is hiring a professional installer. Hiring a professional CCTV installation service will make sure everything is installed correctly. An experienced technician will also be able to offer helpful tips and suggestions to make your security system as effective as possible.
If you're ready to take your home or business security to a new level, Four Walls Security is here to help with all your CCTV installation needs. Contact us for a free, no-obligation quote today.