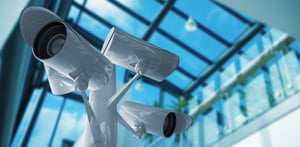 You've spent time and effort to make your business into what it is today, so it's important to keep it protected. Closed circuit television (CCTV) security cameras are a great addition to any business security system, but they're not all created equal.
In the past, CCTV for business meant hardwiring cameras throughout your building and linking them to a central control room filled with equipment and a full-time security guard. Internet protocol (IP) CCTV cameras are changing all that. They can transmit signal to a network video recorder wirelessly or through ethernet cables and store all the footage on your local network, which offers a host of new benefits. Here are six reasons why you should consider IP CCTV for your business.
1. Monitor Your System Remotely
Have you ever been away from the office and wondered what your employees are up to? Analog systems can only send information to on-site security monitors. If you want to watch footage, you have to be at the office. With IP CCTV, you can monitor cameras remotely from your mobile device. If you're curious about your employees' work habits or if an alarm is triggered, you can log in and view live security footage at any time.
Remote CCTV monitoring is essential for business owners who travel or just don't like to be stuck in one place.
2. Mobile Security Alerts
To know what's going on using an analog CCTV system, you'd need to hire someone to monitor the feed in case something goes wrong. If something does go wrong, you wouldn't hear about it until you came into work the next day, but not with IP CCTV for business.
IP CCTV systems are equipped with software that'll send you an alert if an alarm is triggered or if it detects movement—depending on how it's programmed. If you get the alert, you can check your cameras remotely to see what's happening and determine a course of action in a fast, efficient manner. The quicker you respond to a security threat, the less damage your business will sustain.
3. Easy Installation
Without the need for recording equipment, dozens of televisions, or an on-site DVR or VCR (who uses those anymore?), IP CCTV installation couldn't be easier. Simply plug the camera into a power source and connect it to your local network, typically with an ethernet cable. You'll have to download software to manage the system, but that's nothing compared to crawling behind a desk to connect AV cables.
4. Scale with Your Needs
Since installation is a piece of cake, it's easy to add more cameras whenever you need them. Find a blind spot? Add a camera. Build a new wing? Add a camera. Want a different viewing angle? Add a camera. Instead of being forced to buy cameras in packages of four or eight—as is the case with some analog CCTV systems—you're free to buy and install as many cameras as you need. Even if you don't like the location of a camera, you can easily move it to fit your needs.
Each new camera can connect to your existing system, so there's no need to buy additional TVs for viewing, run more cables, or purchase new software. No matter how your business changes, an IP CCTV system can change with it.
5. Save Money on Security Costs
While IP CCTV for business is typically more expensive per camera, the money you'll save on installation and staff will more than make up for it. You won't have to hire an installation team for several days' work running cables and setting up complicated—and expensive—monitoring equipment. They'll be able to finish the job in no time with minimal hardware. And with the mobile alerts and remote access, you won't need to hire a full-time guard to monitor the system.
6. Better Image Quality and Field of View
How do you catch a burglar if you can't see his/her face? IP CCTV cameras typically have a much better resolution and a wider field of view than analog cameras. You'll be able to see perps clearly and even zoom in on faces for easier identification. Even if someone manages to get past your other security systems, they won't get away with it for long.
Get IP CCTV for Business with Four Walls Security
IP CCTV is the future of business security. It's more flexible, scalable, and offers better performance compared to traditional analog systems. If you want to increase your business security, ask the experts at Four Walls Security. We've worked with Brisbane area businesses for years and can help you find the perfect security solution for all your needs. Contact us for a free, no obligation quote today.