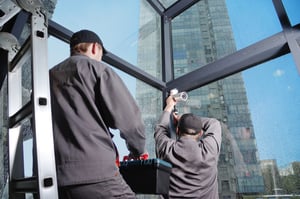 When it comes to CCTV installation, you have two choices: tackle it yourself or call in an expert. While there are certainly benefits to installing a CCTV system yourself—mostly saving money on installation—you'll be missing out on some important benefits that only a pro can offer. Here are seven reasons why you should hire a pro for CCTV installation.
1. It's Easy
If you choose to tackle CCTV installation yourself, there are a lot of things to consider. Which cameras do you need? What recording device is the best? How do you feed wire through the walls? What's the proper camera mounting position?
With the number of options available on CCTV security systems, it can be confusing to determine what's right for you. Then, when you pick your options, you have to figure out how to install it.
Hiring a professional makes everything easy. They'll handle the entire process from start to finish, so you don't have to do anything but sit back and watch—and even then, only if you want to. You'll have a brand-new CCTV security system installed in your home or business without lifting a finger or interrupting your busy schedule.
2. Don't Worry About Purchasing All the Components
There are a lot of parts in a CCTV system. Besides the obvious components like the cameras and recording device, you'll also need wire, screws, mounts, and other specialty tools to help with installation. Save yourself the multiple trips to the hardware store and hire a professional.
They'll bring all the components needed for a quick and easy installation. Don't bother doing the maths to determine how many metres of wire you need. The pro will bring it!
3. Get the Best Equipment
With a DIY CCTV installation, you're limited to the equipment you know how to install. Sometimes, that might not be the best equipment. If you hire a pro, there aren't any limitations. You can get the security solutions you need, no matter how complicated they might be.
4. It'll Be Done Right the First Time
There's always some trial and error when you try something new. When it comes to baking a casserole, that's not a big deal. When it comes to your home or business security, errors are a bit more serious. You don't want to make a mistake and leave your property vulnerable to intruders.
If you hire a pro, there's no trial or error. They know what they're doing, so it'll be done right the first time. You won't need to go back and make repairs, adjust the cameras, or install software patches. Once installation is complete, you're good to go. Don't think of it as an installation fee; think of it as an installation guarantee!
5. You'll Get Expert Security Suggestions
You might not know the most effective locations for your cameras, but a professional does. When a professional handles your CCTV installation, they'll give you expert advice to strengthen your home or business security, offer equipment or upgrade suggestions, and know exactly where to place your cameras for maximum coverage. Sure, you can ask Google for that information, but Google won't be able to offer customized advice for your unique property.
6. Professional Maintenance and Support
If you handle CCTV installation yourself, who will help you if you run into problems? The little instruction booklet will only help so much, and being on hold with customer support for 45 minutes at a time is just frustrating. With a professional, you'll have someone who knows your system inside and out to help you with support and maintenance down the road.
7. Peace of Mind
The real reason to hire a professional to handle CCTV installation is for peace of mind. You'll know that your system was installed correctly and is ready to fulfill your unique security needs. Your safety is too important to trust to anyone except a professional.
For expert CCTV installation, trust the professionals at Four Walls Security. We have years of experience working with Brisbane area homes and businesses, providing customized security solutions to fit their needs. If you're ready to boost your property's security with a CCTV security system, contact us for a free, no-obligation quote today.