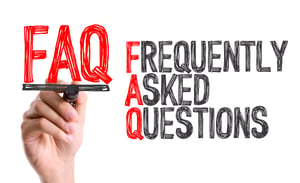 Access control for the home is the most important aspect of home security because it protects those that matter most: your family. The only way to maintain peace of mind is by knowing that your home security system is up to the task of validating visitors and preventing unwanted entry. But access control can be a confusing topic. How do you choose the right system for your home? To help you through the process, here are some of the most frequently asked questions about access control for homes.
What Is Access Control?
Access control is the process of determining who has permission to enter your home. Whether it's a video doorbell that allows you to see a visitor's face before opening the door or a keypad on the garage that only opens for people with the code, access control is what lets in the people you trust and keeps out the ones you don't.
In addition to allowing entry, access control is also about validating visitors and making sure they are who they say they are. It's one thing for the person on your porch to say they're delivering a pizza, but are they really? A good access control system will be able to do more than just open doors; it should give you a way to verify a visitor's identity before allowing them access.
What Is the Most Secure Form of Access Control?
Overall, the most secure form of access control is biometrics, which is the scanning of fingerprints or using facial recognition to gain entry. While it might be the most secure, it's not typically designed for home use.
For residential security, an access control system paired with a video intercom is probably the most effective. Video intercoms allow you to validate visitors individually, leaving the decision about whether to open the door entirely up to your judgement. Many access control systems can even be operated remotely, so you can manage your home's access control from anywhere in the world from the palm of your hand.
Can Access Control Systems Be Integrated with Other Security Systems
Yes, most access control systems can be integrated with existing security systems in your home. One of the most popular pairings is an access control system paired with an intercom system and/or a home security camera system. That way, you can see and talk to visitors before deciding whether to allow them access to your property.
Many access control systems can also be connected to your home's Wi-Fi network, which allows them to integrate with any virtual assistants, like Google Home or Amazon Alexa, that you may have. Then, you can lock, unlock, and even open doors simply by using your voice.
What Are the Most Common Types of Access Control Entry Devices?
There are dozens of access control entry devices on the market. Some of the most popular access control entry devices for residential use are:
Proximity readers – can be accessed with key fob, keycard, or smartphone.
Keypad – opens with a numeric PIN.
Intercom system – with or without video.
Different devices are better suited for different applications. For example, keypads are more popular on garage doors, where security might not be as much of a priority, while video intercoms are typically used on front doors. It all depends where you need more control.
What Costs Are Associated with an Access Control System?
There are three basic costs associated with an access control system:
Initial cost – the cost of the physical equipment like keypads, proximity readers, and intercom systems. Typically, the more high-tech the device, the more expensive it's going to be. For example, putting a keypad on your garage door is going to be cheaper than installing an intercom system throughout your house.
Installation – once your purchase the equipment, it needs to be installed. The biggest factor regarding installation cost is going to be whether your access control system is wired or wireless. Many access control systems for the home are wireless and simple to install. If you're looking for a more secure wired system, it's going to have a higher installation cost because you need to run all the wires.
Maintenance – the cost of keeping your system running. Some home access control systems are professionally monitored, which might include a monthly subscription fee. You'll also have to keep in mind that wireless access control systems require regular battery changes.
Home Access Control with Four Walls Security
Access control is a complicated, yet very important matter for homeowners. It's what keeps your family safe! Before deciding on any products, make sure to do the proper research. If you have any further questions regarding access control, including the types of systems, associated costs, or which system is right for you, feel free to contact the experts at Four Walls Security. We have years of experience serving Brisbane area homes and businesses and can walk you through every step of the process. From choosing a system to installation to ensuring smooth operation, we'll be right by your side.