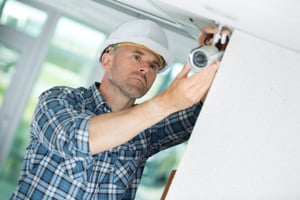 When it comes time to install your new security cameras, it's important to do it right. There are six steps a professional will take when outfitting your home or business with cameras. Here's what to expect during the CCTV installation process.
Step 1: Assess the Property
The first step for any good project is to see what you have to work with. A technician will come to your home or business and look it over. He or she will note any trouble spots and get a basic idea of the property. This is the time to ask any final questions or address concerns.
Your technician might also offer some last-minute suggestions or upgrades for you to consider. If they notice that you have some dark areas, for example, they might suggest a camera with better low-light capabilities.
Step 2: Decide Where to Install Equipment
Now that the technician has a feel for your property, it's time to make a plan. Where are the most effective places to install the cameras and recording equipment (if applicable)? They'll consider things like:
Foot traffic

Height

Field of view

Mounting location

Lighting conditions

Security vulnerabilities
When mapping out installation points, one of the most important things to consider is how to run the wires. Most cameras need two wires: power and system connection. For IP CCTV cameras, every camera needs to be connected to the internet via ethernet cable. For wired systems, cameras need to be hardwired into the on-site recording equipment.
Installing cameras far away from a power or system connection means you'll need to run wires through the walls and ceiling, which can be quite the project. This will be taken into consideration when deciding on the best locations for CCTV installation.
Step 3: Run the Wires
Once you decide where to install your cameras, it's time to start drilling. Holes are drilled at each camera location to prepare the space for mounting, but nothing will be mounted just yet. First, you want to make sure all the wires are in position.
This step will differ for each property. Sometimes it's easy, and the power and system connections are nearby. Other times, the technician might have to crawl around in the attic or feed wires through the ceiling. This is typically the hardest part of the installation.
Step 4: Mount the Cameras
Now that the wires are finished, mounting your CCTV cameras should be simple. Fasten the brackets into position, attach the wires to the camera, and fit the camera into the bracket. Simple as one, two, three.
The cameras must be mounted so they have an optimal field of view. Pay extra attention to cameras with pan, tilt, zoom (PTZ) abilities. If the camera's not in the center position when mounting, your panning ability might only give you a view of the neighbouring wall.
Step 5: Set Up Software
Depending on the CCTV system you chose, you'll either have a network video recorder or an on-site recording system. The software setup is similar for both, but on-site recording systems need physical recording equipment, typically a DVR.
Once the cameras are connected to the system—either hardwired or through the internet—simply log into your security control system and configure the settings as you like. If you choose a CCTV system with remote viewing capabilities, your technician will be able to help connect your mobile devices.
Step 6: Complete CCTV Installation
The final step to CCTV installation is to make sure everything works. Using the command software, run through each camera's video feed. Check the field of view, picture quality, and PTZ features. If you're using a recorder, make sure it has enough storage space and that you can review footage. Once everything is working properly, CCTV installation is complete, and your home or business is officially under surveillance.
Trust the Experts at Four Walls Security for CCTV Installation
Installing a CCTV system in your home or business isn't an easy task, and it helps to have an experienced team on your side. If you're ready to secure your property, contact the pros at Four Walls Security. We've worked with Brisbane area homes and businesses for decades and can help you choose the perfect CCTV system to fit your needs, professionally install it in your property, and provide high-quality service for the life of your system. Enjoy peace of mind with a new CCTV security system today.