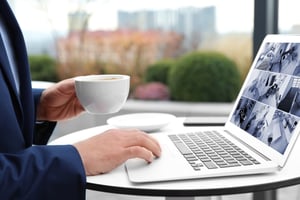 Do you want to take vacations without wondering if your employees are still working? Are you tired of midnight trips to the office because of a false alarm? Being able to access your business CCTV system from anywhere can solve those pesky problems and help you be a better—and more well-rested—manager. With the rise of IP cameras and remote viewing, that dream is now a reality.
Internet Protocol (IP) Cameras
Instead of sending an analog signal through old-fashioned AV cords, internet protocol (IP) cameras send digital signals through ethernet cables or wireless networks. While that might not sound like an impressive upgrade, digital signals can be uploaded directly to the internet using a network video recorder (NVR).
Network video recorders replace the need for on-site recording equipment like DVRs or VCRs (what's that?). Instead, your video feeds are uploaded and stored securely on the internet. If you want to view security footage, just log in and watch. It's that simple.
Older analog CCTV systems can be converted to IP cameras with an analog-to-IP converter. The converter will take your cameras' analog feeds and convert them to digital for easy uploading to the internet. While it might save you some money on purchasing new cameras, it won't give you all the features. Plus, the converters themselves can be pricey for large systems. In most cases, it's best to upgrade your CCTV system.
Remote Viewing with Mobile Apps
Once your security feeds have been safely uploaded to the internet, you can view them from anywhere you have an internet connection, which includes mobile devices. Most CCTV system manufacturers offer downloadable apps that link your device directly to your cameras. Whether you're sitting in your office, at home, or on the beach, you can view multiple feeds simultaneously from the palm of your hand.
If your cameras have pan-tilt-zoom (PTZ) capabilities, you can even control their movements with your device. Just swipe the screen, and the camera will follow your motions.
Benefits of CCTV System Remote Viewing
Having remote access to your business CCTV system comes with a lot of benefits. You can keep a watchful eye over your operation without feeling the need to live in the office. Here are some of the perks that come with CCTV remote viewing.
Watch over your business 24/7 – No matter when you get the urge to check in, you can view live CCTV camera footage from your mobile device day or night.
Take vacations (the longer the better) – You won't be trapped in the office! Take real vacations without worrying about how the business is managing without you. Keep an eye on employees from the comfort of your beach chair.
Respond quickly to security threats – If an alarm is triggered at midnight, you won't have to drive into work to see what's happening. Maybe a hungry critter accidentally tripped your alarm system, or it is a robbery and the police need to be notified. Either way, you can act quickly and accordingly.
Peace of mind – You'll know that no matter where you are in the world, you're connected with your business. You won't need to worry about being away from the office ever again.
Business CCTV Systems from Four Walls Security
With IP cameras, you'll be able to access your business CCTV system from anywhere in the world for better security and employee monitoring. Enjoy life and do what you need to do without feeling the urge to be in the office 24/7. With the tap of your finger, you can check on your business anytime right from the palm of your hand.
Whether you're looking to upgrade your outdated analog system or searching for a new remote-capable solution, the experts at Four Walls Security can help you find the perfect CCTV system for your business. We have years of experience installing and maintaining security solutions for businesses throughout the Brisbane area. Contact us for a free, no-obligation quote on your next IP CCTV security solution today.