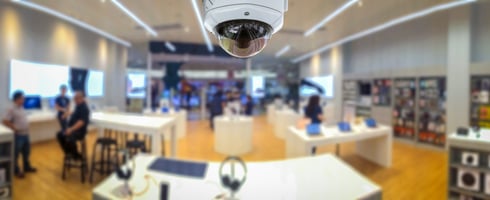 With modern advances, CCTV security systems are no longer for large corporations with money to spare. They're affordable for nearly every business and offer a myriad of benefits ranging from theft prevention and personnel monitoring to marketing and operational efficiency. If you own a business, here are some of the benefits that a CCTV system has to offer.
Retail Establishments
Shoplifting accounts for 70 percent of all theft for retail businesses. And since you can't follow each customer around your store (at least without getting some negative looks), a CCTV system can act as your eyes in the sky. Not only will you be able to see if someone is shoplifting, but the mere sight of a camera is enough to deter most wannabe criminals before they get the nerve to steal.
Of course, even if they do gather the courage to take something, you'll have video proof of the incident that you can hand over to law enforcement. Simply having that evidence is enough to warrant installing a CCTV system.
On a less threatening note, you can also use your CCTV cameras for marketing purposes. Track and analyze customer movements throughout your store to see what they interact with most. Then, you can make alterations to your store to increase the effectiveness of your marketing materials or to promote popular items.
Manufacturing Plants
Manufacturing plants are generally large and have many moving parts. With so much to keep track of, supervisors have their work cut out for them. A CCTV system can help plant managers and supervisors monitor employees and inner workings to ensure smooth operation.
In a manufacturing environment, CCTV cameras can be used for much more than preventing theft. They can be used to:
Evaluate day to day operations

Reduce false liability claims

Prevent equipment tampering

Monitor employees

Allow remote site management
The money you save creating a safer, more efficient workplace will easily cover the cost of CCTV installation and maintenance.
Healthcare Industry
Healthcare businesses handle a lot of sensitive patient information, so it's important to take the proper precautions to ensure that data is safe. CCTV cameras can monitor sensitive areas of your business to prevent unauthorised access to patient files.
Managers can also use the CCTV system to ensure that staff members maintain proper safety standards as they work with patients. If someone is caught using unsafe practices, the action can be corrected and disciplinary actions taken before any harm befalls the patients.
Office Buildings
Although office buildings don't usually carry inventory, they can still benefit from the protective gaze of a CCTV system. In addition to monitoring employees and preventing theft, CCTV cameras can help office managers keep logs of who comes and goes throughout the day. A logbook is good, but it's easy for someone to slip through. It's nearly impossible to get past a well-placed security camera in the reception area. Plus, your employees and clients will feel safer knowing the entrance is being monitored.
All Businesses Need a CCTV System
In reality, every business can benefit from a CCTV system. They're more affordable than ever and can prevent theft, monitor on-site activities, limit false insurance claims, and even reduce the cost of insurance. With these benefits, it doesn't take long to see a return on your investment.
It doesn't matter if you manage a business with two employees or two thousand, a CCTV system can make a huge impact on your company. Whether your business is large or small, the only difference is the number of cameras you'll need to install.
CCTV Systems from Four Walls Security
If you're in the market for a CCTV system for your business but aren't sure where to start, ask the experts at Four Walls Security. We can help you find a customised security solution built to fit your business for unmatched protection and peace of mind. Feel secure knowing your property and employees are protected. Contact us for a free, no obligation quote today and get started on the road to a safer, more productive workplace.