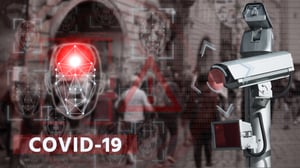 Distancing yourself from infected people is the best way to avoid the novel COVID-19 strain of the coronavirus and prevent its spread. When social distancing isn't an option, you need to be able to determine who's infected. It's easy to tell if someone is continuously coughing or short on breath. Detecting a fever — which is one of the earliest and most common symptoms of COVID-19 — is a bit more difficult.
Thermal imaging cameras are currently being used by hospitals and airports to determine who's most at risk for having the coronavirus. Instead of relying on visible light to create a picture, thermal imaging cameras use infrared radiation and temperature. A person with an elevated skin temperature will appear brighter and stand out from the crowd. If you're looking to protect yourself and your home or business from the COVID-19 threat, here are some of the top thermal imaging cameras on the market.
Fixed Thermal Imaging Cameras
Like the name suggests, fixed cameras aren't designed to be moved around. They're permanently installed in one place, typically a wall or ceiling, and constantly scan the environment. They tend to be more powerful than handheld cameras — though that's not always the case — and, since they're hardwired to a power source, they can continuously scan without needing a battery change.
BTM-T5
The BTM-T5 is a fixed thermal camera that's relatively new to the market. It uses high-end thermal imaging paired with facial recognition software to quickly and accurately scan passersby. It's accurate within 0.3-degrees and can scan 16 people with a 30-milisecond scan time. It's typically used at the entrances to busy buildings like government offices, public transportation terminals, schools, and shopping centers.
AXIS Q8742
The AXIS Q8742 is a top-of-the-line indoor/outdoor thermal imaging camera. If column-mounted, it can offer an unobstructed 360-degree field of view with its smooth pan and tilt movements. The powerful sensors can create a thermal image in just about any weather or lighting conditions, even at long ranges. In addition to thermal imaging, the Q8742 can also record optical video at 1080p resolution.
HIK-2TD1217B-6PA
The Hikvision HIK-2TD1217B-6PA is a popular turret thermal imaging camera used in public buildings such as customs, airports, schools, and hospitals. When mounted on the ceiling, the turret can constantly pan the area and scan multiple subjects simultaneously. If it detects a temperature over the set benchmark, it'll automatically sound an alarm to notify authorised personnel. Its thermal sensors are accurate to within 0.5-degrees.
BTM-213H
The BTM-213H is a small thermal imaging terminal that can be integrated with your existing access control system to validate visitors based on skin temperature. If someone with a fever approaches the terminal and attempts to gain entry to your building, they'll be flagged, and you can respond accordingly.
AXIS P1290
If you're looking for a fixed thermal imaging camera that won't break the bank, look no farther than the AXIS P1290. The P1290 is a small, discreet thermal camera that can be installed just about anywhere indoors. Power is supplied via ethernet cable, so installation couldn't be simpler. This camera features a 35-degree field of vision and can also record optical video in addition to thermal.
Handheld Thermal Imaging Cameras
If you need more mobility, a handheld model might be better suited for you. Handheld thermal imaging cameras come in a range of sizes. Some are large, camcorder-like devices, while others can be small, one-handed, point-and-shoot type cameras. Handheld cameras all run on batteries and are meant to be used for short periods of time, not constant scanning.
FLIR T620
The FLIR T620 is a high-end handheld thermal imaging camera. It comes with a powerful thermal sensor that that produces one of the highest infrared resolution pictures on the market with 640 x 480 IR pixels, along with standard video and voice recording capabilities. The picture is displayed on a large 4.3" LCD touch-enabled display, and all data can be sent directly from the camera to your PC via Wi-Fi.
HIK-2TP21B-6AVFW
The HIK-2TP21B-6AVFW is smaller than the FLIR T620 with many of the same features. Although the resolution isn't quite as high as the T620, this model provides more accurate temperature readings to within 0.5-degrees and still offers a crisp, clear picture on its 3.5" LCD touch-enabled display. It can also record optical video and audio and features Wi-Fi connectivity.
HIK-2TP31B-3AUF
If you're looking for a more budget-friendly handheld thermal imaging camera, the HIK-2TP31B-3AUF is a great choice. Its sensors can detect a person's temperature in under one second and within 0.5-degrees of accuracy. Its small, lightweight design makes it easy to store or carry and quick to deploy. It also features a 2.4" LCD display and can operate continuously for up to eight hours with its built-in rechargeable battery. Unlike the other handheld cameras, the HIK-2TP31B-3AUF only offers thermal imaging, not optical video or audio.
Protect Yourself with Four Walls Security
Maintaining a safe distance from infected people is the most effective way to protect yourself, your family, and your employees from the COVID-19 pandemic. By installing thermal imaging cameras around your property, you'll be able to detect when someone has an elevated skin temperature before they get too close. Although having a fever doesn't necessarily mean someone has the coronavirus, in these uncertain times, it's better to be safe than sorry.
There are hundreds of thermal camera options on the market. If you need help determining which option is right for your unique needs, ask the experts at Four Walls Security. We will gladly walk you through the choices and help you make the perfect decision. Feel free to contact us with any questions or for a free, no obligation quote today.